LG V30: Is P-OLED Better Than Super AMOLED? Or Everything is a Buzzword?
(ThyBlackMan.com) One thing is official that LG V30 is coming, and the smartphone will most likely come equipped with a 6-inch POLED display. Now, this is a new term for many. We heard OLED, AMOLED, Super AMOLED and even Retina display in the last few years. Everyone else out there is trying to make phones with the best display size and quality possible.
From the iPhone 7 to Samsung Galaxy S8 and now the LG V30 and its rival Note 8, things are changing, so as the display quality on mobile devices. Read on to see what these display technologies mean for users who come from different walks of life.
What's POLED & What's AMOLED/Super AMOLED?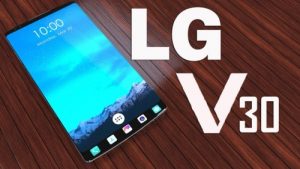 Earlier in August, LG announced that the next flagship smartphone from the company will be the first to feature a plastic OLED FullVision display. The term POLED is not a new thing in the world of OLED display. It comes because of a slight change in the technology. Here's what it is.
A plastic OLED (POLED) is more flexible in nature and gives more room to the designers to experiment with the display. Deep inside a POLED panel, a plastic substrate is used in place of glass. Plastic is thinner and more flexible in nature and as a result, it allows the designers to achieve a wide range of form factors. At the same time, its manufacturing cost is also lower than molding a piece of glass. It doesn't mean that only the device with POLED can use plastic substrate in the panel, AMOLED panels can also replace the glass with plastic. If you see the Samsung's Edge concept, the size of the bezel is going down with every generation of smartphones is a result of plastic. The term Super AMOLED comes from here only.
So it's all a buzzword?
No, it is not. Beyond marketing, the terms OLED, AMOLED, and POLED have their unique identities. If you look into an OLED display's structure, you'll see that there are millions of LEDs (light emitting diodes) available inside and these small components that produce colors when they are charged with electric current. What plays a major role here is the quality of material used by manufacturers. Since the designs are different, the material quality used in production also varies. As a result, even if you feel that both Samsung and LG are using the similar technology in display, there can be a huge difference between the outputs we get from their devices.
If we look at the differences between using plastic and glass substrate, one thing that we all have learned in the science class is that glass is better when it comes to achieving clear vision. This is one of the reasons many of us choose glass over plastic in watches and sunglasses. But LG or any other company who uses POLED panels are not going to use cheap plastic, of course. We have seen many smartwatches with POLED and they look absolutely stunning. So, this is not going to be a problem for LG, but there will still be differences.
Plastic OLED gets a competitive edge in terms of strength. Glass panels are fragile and you can't expect them to bear shocks. Although the plastic panels are not shockproof, they are durable and more reliable than glass.
No matter what the substrate is being used in an OLED panel, the phones will still need protective glass casing. Since POLED are comparatively thinner, LG will likely add additional layers of protective material in LG V30.
A key difference between the panels as noted by XDA Developers is that LG's approach towards the display is different than Samsung. LG uses RB-GB layout which is most likely to maximize the blue sub pixel resolution, while the Samsung's approach is RG-BG layout-focused. Samsung claims that this approach allows the company to maximize the green subpixels.
Bottom Line
The reality is LG has shared a little about its new handset and the company has focused more on the device's display. If the teasers are something to go by, LG V30 is going to make you ditch the Samsung Galaxy Note 8. But there's a lot to be revealed by their respective manufacturers, what comes out as a result of the LG V30 vs Note 8 battle is still a mystery. LG is expected to unveil the phone on August 31.
Staff Writer; Corey Shaw
Have any Tech Tips? News? Hit up our Tech Guru at; CoreyS@ThyBlackMan.com