Tips to Help Your Children Exceed in School.
(ThyBlackMan.com) We are gearing up for yet another school year and while many children are excited about returning to school, many children are dreading the return. For many students, school is seen as something of a chore, something that does not really benefit them aside from reading and writing, yet something that they must do in order to make it out of their parent's home.
Many parents are dreading the return to school as well. Parents who children struggle in the classroom or in different school settings may find themselves battling anxiety as the start of school draws near. I have experienced my share of difficulties in school, as a student and as a mother. While it can be difficult, with a few minor shifts and discipline, school can be a very pleasurable experience for children and their parents.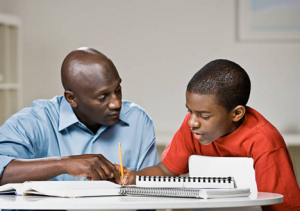 Ways to help your student succeed in school:
1.      Communicate your expectations often. Don't be overbearing but certainly remind your children of how intelligent and creative they are as well as what you expect from them.
2.      Make use of the parent portals. If the school has an online parent portal, be sure to sign up to receive regular notifications. Once you sign up, make sure you sign in at least once per week. It is much easier to keep your grades up than it is to pull them up.
3.      Discuss different learning strategies. School nor learning should be a one size fits all system. Try different techniques such as using flashcards, revising drafts, proofreading, studying with family members, reviewing notes, etc. to see what works best for your student.
4.      Discuss their goals and aspirations. Aspirations will change frequently as student's go through their high school years, but it is important to talk about setting goals and discussing ways to achieve them.
5.      Keep them active. Encourage your student to join clubs, sports, and other activities in school and bond with their classmates. Expose them to different cultures, visit local museums and art shows. Let them see there is more to life than the typical things shown on television and discussed in music.
6.      Teach them the importance of putting a dollar or two aside. Teach your children young that their education is an investment. When you are teaching them how to earn their allowance, teach them how to save money and to see the value in spending their money to enroll in different courses that will add to their personal, mental and spiritual development.
Do not start the school year without setting long term goals. Depending upon your child, decide whether daily, weekly, bi-weekly or monthly short-term goals work best for you all and stick to them. Review goals on a regular basis so that you are all clear on what is being worked on. Vow to make this the best school year thus far!
Staff Writer; Dina Tuff
333rd Eye Healing Temple
Reconnecting Consciousness to Magick
Official Website; http://www.333rdeyehealing.com
Facebook: http://www.facebook.com/333rdeyehealing
Instagram: http://www.instagram.com/333rdeyehealing