Bharat Bhise – Looking to Start a Podcast? Here is What You Should Be Thinking About.
(ThyBlackMan.com) Bharat Bhise and I started our podcast just over 4 years ago and it is something which has brought us both a great deal of joy and the ability to express ourselves. When Bharat and I were starting out we made so many mistakes which we had to learn from, thankfully we did and we have since built up quite the loyal following. If you are interested in starting your own podcast then perhaps you can learn from our mistakes and avoid making them when you get started.
Niche Theme
When Bharat and I got started we didn't really have a them per se, we would discuss whatever was topical at the time, a pseudo news show if you like. We didn't really get a lot of traction when we first started and we quickly realized that we needed to drill down into a more specific niche if we were going to find success, which is just what we did. If you are into remote control planes, fashion, travel, DIY or any other pastime, this is what you should be doing your podcast about. With a niche topic you'll get a more loyal audience and you will enjoy it more.
Getting Set Up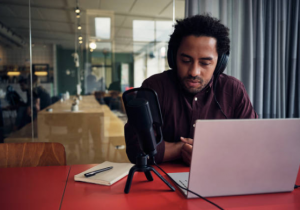 It doesn't have to cost the Earth to get set up in terms of the equipment which you are going to use but yI would urge you to buy the most expensive kit that you can afford to. Bharat and I did our very first podcast on some terrible microphones running off a single channel, and the sound quality of that podcast was absolutely terrible, sounding unprofessional. People will switch off if the sound quality isn't there, and the key to that is investing in good mics and a good piece of editing software.
Practice
It may sound easy to sit on a microphone and talk for an hour or more but I can tall you that it really isn't  and it doesn't take long for you to run out of things to say. This is one reason why you need to make sure that you practice before you put your voice to the mic. Another reason for practicing is because you need to sound excited, you need people to engage with your voice, as this is the only thing they have to buy into. Practice playing with your vocal sounds and make sure that you have a goo list of things that you wish to say.
Guests
If one day you would like to have guests on your podcast then first you should be thinking about creating a solid foundation for your podcast and gaining some strong followers. Once you have done this then you can start reaching out for various guests who can bring something extra to the podcast. The key however in the beginning is to keep making them and keep promoting them, in order to build up a little following.
Staff Writer; Harry Poole