7 Style Tips for Men.
(ThyBlackMan.com) Style can make or break a man's look, both in the eyes of women and those of other men. Dress well, and you'll command more attention and respect, whether out on the town or in the workplace.
We've put together a few style tips to help you out. Make the most of these 7 tips, and you'll be well on your way.
1). Gold Necklaces
The right gold necklace will provide you with masculine style and a bit of flair, something that will help you to stand out in a crowd as a man who has good taste and the means to express it.
Look for a gold necklace that expresses your personality and your sense of style. A necklace with a pendant is a good way to do this: the pendant can be funny, or it can express your interests, tastes, even your faith.
There are few accessories in men's fashion that are really on the level with a well-chosen necklace. Be sure to check them out and pick your gold necklace for men.
2). Bracelets
A good bracelet is another game-changing men's fashion accessory. The type you pick should depend on what style you're going for, but the key thing to remember is that a bracelet is there to add to your look in a subtle way, not be the centerpiece of what you're wearing.
A silver chain bracelet or a beaded bracelet with metallic details is a good choice if you're dressing more formally, and it can also go well with a gold necklace. Another way to go would be a leather anchor bracelet or a macramé bracelet, which would be ideal if you're going for a more casual look. Some men prefer to wear a real obsidian bracelet to enhance not only their looks but also their well-being, especially in terms of wealth and luck.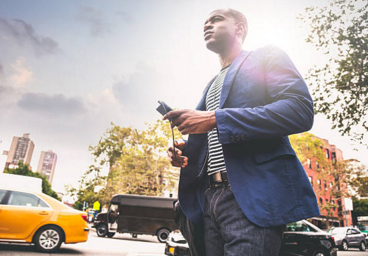 3). Rings
Rings are another great way for a man to accessorize. Some men have this idea that a man should only wear a wedding ring, maybe a graduation ring too, but there's no reason you can't wear one or more rings just for style.
A good rule of thumb for men's rings is to go simple – keep jewels to a minimum – but don't be shy of exotic materials. You can get a gold or silver ring, but maybe you'd prefer something different – carbon fiber, tungsten, various woods, even steel – all of these are possibilities to consider.
4). Hairstyle
We've talked about hairstyles before, the basic rules for short styles, but this bears reiterating: you want your hair to look nice and sharp. It's fine to wear it long if you can pull off the look, but there's no excuse to not take care of it.
Long or short, keep your hair trimmed regularly so you have that sharp look. There are many styles you can choose from, so find the one that works for your job situation and your personal style and go with that.
5). Belts
A good belt can play a key role in tying your outfit together, as well as helping you look well-styled. For more formal occasions, make sure your belt and your shoes match. If you're going somewhere casual, don't match: it can look odd if you do.
6). Pants
Many men wear jeans, or cargo shorts in warm weather, but you have a lot more options if you want to look cool and casual. Try slacks or chinos instead of jeans: they're definitely more stylish, they look great, and they'll help you stand out when everyone else is wearing jeans or other very casual wear.
For some men who are used to jeans, khakis and chinos may be counter-intuitive and 'uncool'. They did get some negative associations back in the '90s, when workplace dress codes changed and baggy, pleated khakis became a staple of Casual Friday, but neat, sharp khakis and chinos (technically, khakis are brown-colored chinos) are a great style option today.
Try to have a few pairs of slacks or chinos in your wardrobe. You can always get a few different colors, and then make the rest of the outfit work around them.
7). Suits
Get your suits tailored. This is one of the most important fashion tips for men when it comes to clothing.
A non-tailored suit may hang loose on your body, or it may be too tight or too short. A tailored suit, on the other hand, will look particularly good on you. You'll stand out from men who don't get their suits tailored, that's for sure. You can check here to learn how dress shirts should fit.
In addition to tailoring, think about suit extras. Lapel pins are a good idea, cuff links are a must, and it probably shouldn't have to be said, but you'll definitely need a tie or a bowtie. Crucially, never match the pattern of your tie or your bowtie with a pocket square: matching colors is fine, but not patterns.
Conclusion
A man who knows fashion and style will always stand out over one who doesn't. They say the clothes make the man, and the same is true for accessories and hair style. These 7 tips will definitely get you going.
Staff Writer; Carl Johnson