How to Prepare for Family Hiking and Camping.
(ThyBlackMan.com) It's time to take your family out for an adventure tour. Hiking & camping should be one of the best ways to embrace the nature and have fun with your family. Kids love camping especially. It is also a good way to build their strong mind in hiking and camping. Before going out, it is important to have a good plan and prepare some essential gears for your family hiking.
# 1 Practice before Going to Long-distance Hiking and Camping
If you kid is old enough to hike by himself/herself, you'd better take him/her to some short-distance walking every day before going to the wild, such as going to school on foot or walking in the city park.
If you're taking a baby to a hiking trail, make sure the little one has already spent a few hours riding in their backpack carrier before heading out.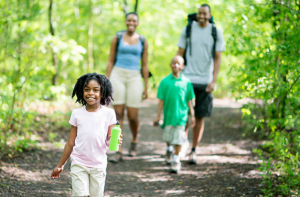 # 2 Choose the Proper Trail and Campsite
Choosing the proper trail is essential especially when it is the first hiking tour of your family. Usually, it is recommended to take easier trails which are highly developed to ensure safety of the whole family.
Pick campgrounds with amenities that suit your family's needs.  Also, more developed campgrounds are recommended with picnic tables, flushing toilets and hot showers.
# 3 Ensure Safety
This should be the most important part before going out for hiking and camping. Make sure that your kids understand that they are not allowed to go beyond the campsite alone or near water. Do not wander into other people's campsites or to go to the bathroom by themselves. If you still worry about kid's safety in the wild, you can get an outdoor GPS tracking device which works in eras where there's no cell service. With the GPS tracker, a safe zone can be set up around the campsite. If the kids go beyond the safe one, you will receive the alert on your phone.  The real-time location of your kid is also reported in every few minutes.
# 4 Pack Essential Gears for Your Family Hiking
Food, water, tent, double sleeping bag, and cloth are the basic needs when being out door in the wild. What else gears should you pack? Check the following infographic for more details.

Infographic courtesy of; http://www.AiBlue.com
Staff Writer; Roy Jacobs