Interesting Facts about Amazon's New World Video Game.
(ThyBlackMan.com) For the New World game, Amazon is recreating the 17th Century for MMO gamers. The E-commerce giant announced its new sandbox MMO game saying that a team of developers at Amazon Game Studios is currently working on it. The game doesn't have a release date but according to the company's website, New World will be released on the Microsoft Windows platform. Here are some interesting facts about Amazon's New World video game.
Hundreds of players can join at once
Amazon's New World video game uses the company's cloud technology that makes it possible for hundreds of players to join the game at once. The game features huge maps. During an interview, Amazon Game Studios' director Patrick Gilmore said that the team created a new backend technology for the world called Aeternum in the New World game. This technology helps the developers keep the whole multiplayer experience together by scaling a single computer simulation over multiple hubs in Amazon's cloud.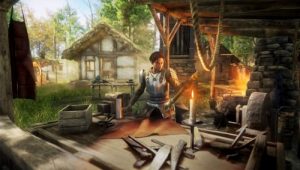 New World seeks to be a different kind of MMO
The team of developers working on New World says that they are not really creating a new genre, but their game will definitely change the way people look at the modern MMORPGs. People often compare MMO games with World of Warcraft, but this game is different. The team calls it "sandbox MMO" for a reason. While many other online multiplayer games put certain restrictions on players and take the freedom away, New World, on the other hand, is focused on freedom of choice. Combats are based on skills, large-scale settlements, and large-scale battles are a part of the game and players' choices will determine their fate.
PvP is at the core
Keeping player vs player battles at the core of New World gameplay, the game focuses more on skill-based physical combats. Developers have confirmed that In New World, combats won't be restricted between the players of the same level, despite having lower attributes, a skilled player can still have a chance of fighting against a player who is at a higher level. The game allows you to kill other players but this random killing has its own price. Amazon's New World has some in-game systems called Criminal Justice and Sanctuary that determine the consequences of such killings.
New World is set in the 17th century
Players start out as a survivor who arrives on the shore of a mysterious continent. They will experience the supernatural elements in a colonial setting. The game features wild animals but most importantly, there will be some alien creatures that you might come face to face with. The game doesn't have a class-based system, but you will be collecting resources, and teaming up with other players. You can help them kill others, build forts, and craft gears for survival. The game is set in the alternative 17th century, but in Aeternum, a world in the game, you can use magic, craft hundreds of items and build anything you want.
It features team battles
You arrive on the land alone with nothing to protect yourself from the wilderness or enemies. But as soon as you explore the map, you will find groups of people which you can join. Teamwork matters a lot because, in New World, you will be fighting against enemy groups. From what we have seen in the demo, it is important to equip yourself with at least enough ammo and better weapons because you will be declaring war on enemy groups. There will be many non-player characters on both sides, so you will have to take cover when the enemy strikes. Take these enemies down and then you will be able to claim your prize.
Play the way you want to play
Amazon Game Studios director Patrick Gilmore says that you can do whatever you want to do in New World. From the demo, it is evident that there is no fixed path to follow. Although you will have to deal with the consequences of everything you choose to do in the game. Having a list of tasks to perform is probably the thing Gilmore and his team don't want in the game. Amazon's New World is built on the Amazon Lumberyard game engine. The sandbox massively multiplayer online game doesn't have a release date or window yet.
Staff Writer; Corey Shaw
Have any Tech Tips? News? Hit up our Tech Guru at; CoreyS@ThyBlackMan.com