Soyinka and Achebe "Africans Have a Story to Tell".
(ThyBlackMan.com) "Writers are being recognized by their works as artist and those of the activist. Creating content is more than just throwing words, video, pictures on a digital sheet of paper. There is intellectual thought during the writing process. Sometimes writers will be in a zone of creativity and innovation to create content that has an intended outcome, but sometimes the outcomes are unknown." William Jackson
Professor Wole Soyinka states, "Just sit down and write.."
The responsibility of a blogger / writer to write means that they have a responsibility to tell a story of those that cannot write. Those that do not have the intellectual abilities because of the lack of access to education or hope in their lives. Digital content is powerful and enabling to bring recognition, attention and urgency to civic issues that need to be addressed either locally or nationally.
From the Black Lives Matter movement to Black Girl Magic, to Blacks In Technology, to Black Girls Rock, the growth of digital social groups represents the urgency to issues that people are passionate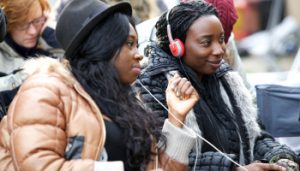 about; from America to Africa, there are similar issues for families in Africa to America that connect them.
The advancement of the blogger / writer is composed of periods of growth, reconciliation, enlightenment and a civic responsibility to write / blog not just for oneself, but for those that do not have a voice. Bloggers are the voice for the voiceless, there are growing numbers of blogs that address social issues that at one time were only whispered, people are marginalized and discounted because they did not have a vehicle that could carry their voices.
Colonization, slavery and wars aided in destroying voices that carries wisdom, history and legacies. There are powerful presentations about the journey to freedom, overcoming obstacles, racism, gender bias and war. To get a better understanding of Africa you must listen to Africans
Telling the African Story: Komla Dumor at TEDxEuston

The ability to share a story comes from the ability to listen and apply knowledge from a person's experiences and even how mistakes are seen as learning opportunities not road blocks.
The diversity of culture influences a writer's ability to "touch" the people they are writing too or writing about. The relevance of applying information and resources is to create a mindset of change, and psychological empowerment to move the mind beyond the current place of settlement to see the potential to change the current situation of the people.
The influences of Soyinka and Achebe can be seen globally through their writings. This represents that power of content that is used to educate people into action. Education must come first then change is next. An educated society is an empowered and growing society.
Seen in South African Bloggers http://weblogforlove.com/ writers / bloggers allow the collective will of the people be a guide to what needs to be written about and solutions developed for the betterment of the people not for a select few. Africa bloggers are an example of content creators that address the educational needs of the people, using technology to bring learning to those that cannot travel to the schools, so learning comes to the people.
Achebe has stated that the writer has a different agenda then the emperor. Building an infrastructure for learning and building Social Media connections is vital to allow people to share and collaborate across cultural, religious and gender lines. Recent Social Media conferences, meetups and summits provide African knowledge to allow African people to tell their stories and make important connections that build employment opportunities.
Social Media Week in Africa 2016 was a great success because of the opportunity for African nations to connect and collaborate on a new level of intellectual and digital exchange. http://innov8tiv.com/social-media-week-is-happening-this-week-and-for-the-first-time-in-kenya-smwinairobi/
Hashtag: #SMWiNairobi is the continuous process of Africans to embrace digital tools that empowers and engages; providing the opportunity to network, collaborate, coordinate and connect alliances and partnerships.
Writers like Soyinka encourage writers to empower people, not to accept the status quo and voice their support and their concerns for the direction of issues that are important to the broader community.
The ability of writers / bloggers to develop trust in the people can be applied to Achebe's statement that the writer has a different agenda than the emperor; the writer has the hearts and minds of the people, while the emperor tries to have the purses and wallets of the people to fill their coffers to live a lifestyle of opulence and wealth at the expense of its citizens.
History has shown that, "if we are not speaking for ourselves or writing for ourselves, someone else is going to describe who we are, where we came from and where we are going." William Jackson
The travesty of colonialism is the mentality and ideology that was taught and enforced on people of color that their history is not and was not important nor significant to world history. That is so much garbage taught by Europeans still in the 21st century, technology allows for there to be a change, allowing for the transformative messages with Blogging, Vblogging, Microblogging and Podcasting to share stories. The storyteller has never been so empowered with potentiality with millions of viewers.
The legacy of people of color is in their storytelling, the storytelling of Blacks, the brotherhood of community and the empowerment of family. Language was developed from stories, shared through spoken stories and family history shared through stories, all were language based. Ghana was the first country in sub-Saharan Africa to launch a cellular mobile network in 1992. It was also one of the first countries in Africa to be connected to the internet and to introduce ADSL broadband services. http://www.ghanaweb.com/GhanaHomePage/technology/
"There is a Story Inside to Tell" Achebe states that every African has an important story that needs to be told, every African life from the city to the village is important. Technology allows for powerful engagement and opportunities for transformative exchanges that can create paradigms of change and growth across the African continent.
Achebe, Soyinka and other African writers, have created the path the writer and now bloggers have a responsibility to continue. Do not allow the emperor to make false promises with illusionary speeches of prosperity when children, women and poor are suffering. African
brothers and sisters tell your stories and share with the world. Use technology to help create the change you want to see in your communities, cities, nation and on the African continent.
Resources:
South African Bloggers – http://weblogforlove.com/
African Women In Technology
http://innov8tiv.com/events/part-2-african-women-tech-conference-dates-announced-awitghana-dec-15-17/
IT News Africa – http://www.itnewsafrica.com/tag/nigeria/
Today – https://www.today.ng/technology
Staff Writer; William D. Jackson
Find out more about this talented writer over at; OCS For Education.