How Technology Has Changed The Way We Send/Recieve Mail.
(ThyBlackMan.com) When was the last time you sent a letter to someone in the post? The traditional uses of mail haven't died out completely, but they're certainly starting to change. We now use all sorts of ways to send and receive mail, and most of those include technology in some form or other. It's time to take a look at five ways in which technology has changed the way we send and receive mail. Here we go!
Here's the obvious one! Email changed everything when it was first introduced. Today, we can't imagine a world where it doesn't exist. Instead of waiting days and weeks to receive documents and pictures from each other, email can do it instantly. Big corporations can send important documentation with email. People c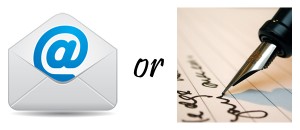 an mail their latest snapshots from their holiday to their friends and family. Almost anything can be said or sent over email, making it the most efficient way of sending mail out there. You can't underestimate the importance of email. It has literally changed the world and the way we think about communication.
Although you might not consider social media as a form of mail, it has become a substitute for it over the years. While initially social media was more of a tool to showcase your personality, it has changed in recent years. Businesses now use it just as much as the average person on the street. Because of this, platforms like Facebook started to implement new features like real-time messaging. LinkedIn offers a way to send quick messages and attach documents to send to clients instead of going through the hassle of email.
The single biggest annoyance that we seemingly can't get away from is junk mail. You can put all the filters you want on your email services, but some things inevitably creep through. Virtual mailboxes rectify this by presenting your physical mail in digital format. Instead of getting mail that just ends up in the rubbish bin, these mailboxes are at different physical addresses to the one you'd normally use. Virtual mailboxes are a great way of saving time and waste.
Where Do We Go From Here?
If you think back over the past 20 years and consider how far we've come, you have to wonder what'll happen in the next 20. Will traditional forms of mail continue to exist? We still need to send and receive big items, but what will happen to generic letters? We still send and receive them on a regular basis at this point, but that is starting to change. Many companies now offer the ability to receive paperwork via email instead of post. Some even demand it!
The way in which we consume mail will surely change in many ways over the next 20 years. Who knows how we'll be sending and receiving it by the time we get there. For now, we've got plenty of different ways to use it. Let's take advantage and marvel at the advances in technology!
Staff Writer; Bobby Love