Creating Email Signature is Easy.
(ThyBlackMan.com) Creating an email signature has never been easier. The Internet is crammed with free online signature generators, allowing to create professionally-looking personal and corporate electronic signatures. One of the most popular and easy to use email signature tools is newoldstamp. Hundreds of people have already discovered the benefits of using email signature created with this free service. So, if you still do not have your own electronic signature, newoldstamp is here to help you remedy this situation.
You will hardly find a person who does not understand the importance of signing a letter. Even children know that signature is a logical ending of a letter that helps a reader feel a more tight connection with the sender. Signature helps better convey the main idea described in the letter, interest the reader and draw his or her attention to the described problem. When used with a business purpose, signature acts as an efficient marketing tool.
It is quite clear that signature is an inseparable element not only of traditional handwritten letters, but of electronic letters as well. If you want to be in the step with the time, use newoldstam to create your own email signature. With this online services, you will easily create an attractive and informative electronic signature, which you can use to express your individuality or promote your business.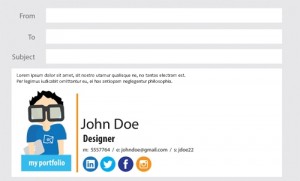 With newoldstamp you will create a professionally-looking email signature, containing your personal and contact information. You can also add links to your website, blog, Twitter, Facebook and other social networks. People behind this service, have made their best to create a user-friendly email signature generator. Indeed, with this unique tool you will create an email signature in just a few clicks.
When signing your electronic letter with an email signature, you make an unforgettable impression on your recipients, providing them with an important information about you and your business. Email signature turns an ordinary email into a real conversation. It can convey the main concept of your business, as well as express your personality.
Newoldstamp offers a good selection of ready-to-use signature templates that you can customize as per your requirements. The most creative users can generate their own signatures. Everything is extremely easy!
If you want your emails to stand out of the crowd, if you want express your individuality or if you are looking for a powerful and cost-effective marketing tool, just create your email signature with newoldstamp team.
Staff Writer; Tony James