'Sorority Sisters' Cancellation: The Ol Educated Black Woman's Psyche.
(ThyBlackMan.com) I know that this is a blatantly late post about the cancellation of 'Sorority Sisters', but since I just wrote about black women and our solidarity issues, this is a good time to address my thoughts on such a shameful episode in black history.
If you're not familiar with the show, here's a synopsis from VH1:
Sorority Sisters follows the lives of "sorors" from four different Atlanta sororities. Unlike most white sororities, African-American sorors pledge for life and are expected to continue with community work long after graduation.

With this fierce loyalty comes intense rivalry among the sisters of the different organizations. From long-awaited reunions and high teas, to managing the men in their lives, it's homecoming all across the ATL! Our ladies have a lot at stake, from maintaining their image in the community to holding down the bonds and legacies of their sororities.
This sounds like good TV, if you ask me!
The idea of having a show surrounding college educated women, displaying their way of life and values seemed like a positive move. Not so. It was offensive to black people all over the country, especially Greek organizations. Their premise for their disdain for such a show, was that it would invade int he privacy of Black Greek Organizations. That sounded a bit illogical, as these women had already graduated from college, yet were living their own lives, with their sorority in their hearts and minds. I would assume that they weren't going to go over any rituals or Greek secrets on TV, but I digress.
My first thought was,' Wow. These women must be controlled by the institutions in which they were educated. They are being controlled because they are in an organization.'
Whoever started the trend to pull advertisers from their show, tweet all the advertisers telling them they they were a disgrace for supporting a show surrounding black and educated sorority women, creating Facebook groups related to the cancellation of such a show…never stopped to think of how positive the outcome for such a show could be. This show may have led to better images of black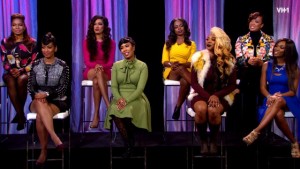 women on an international platform…TV.
I mean, what do we have now, unscripted, that shows quality back women? We all love Love and Hip Hop Series, where bottom bitches get it on, argue about the men they share, and brag about their abortions, which is so common in the black community. We love Basketball Wives series, where classy 'dressed' women have WWE fights on it every week, It's more entertaining to see bottom bitches than educated women, according tot the actions of educated black women.
Is trap life more important to show the world, instead of Greek life?
Does 'woo woo' (crip) and 'soo woo' (blood) sound better than ' skee wee' (soror) ?
Pondering…
Look at this post that shows tweets from black women tweeting advertisers that sorority sister reality shows are garbage, so they should pull their advertisements:
http://www.projectcasting.com/news/vh1s-sorority-sisters-canceled-backlash-causes-advertisers-pull/
Honestly, it's not like this show would be tainting the image of sororities: It seems to be already tainted, with some sororities being brutal during hazing, catching cases on campus, etc.
http://www.blackenterprise.com/news/howard-aka-sorority-hazing-lawsuit-human-rights/
http://www.dailycal.org/2012/02/02/former-student-sues-sorority-for-alleged-hazing-practices/
http://www.thecharlottepost.com/index.php?src=news&srctype=detail&category=News&refno=3044
http://jezebel.com/5882019/pledge-sues-sorority-for-making-her-pee-her-pants
http://www.xojane.com/it-happened-to-me/aka-african-american-sorority-pledge
I mean, if they really wanted to get these women off the show, why not show all of those advertisers their criminal records?
With all of these articles about the hardship and dangers of joining a black Greek organization, is there any wonder why they went ALL OUT against their fellow sorors? They are ruthless in their pursuit of power and control, that they forgot that these women are different than those women on ratchet reality TV. They would have been a breath of fresh air for young black girls.
Instead what did they see? They saw an opportunity to exert their power over their fellow sorors.
Don't you think the sorority's founders would be rolling over in their grave for their hazing crimes, and NOT a reality show that featured the beautiful products that came from their sorority?
Maybe they were right about pulling the plug on such a promising show. The bottom bitch reality shows are closer to our reality than being a college educated sorority chick. Shameful!
Staff Writer; Celeste Writer
Official website; http://celestewriter.com/