Inside The Business Of Selling Out In Music.
(ThyBlackMan.com) More hands and reasons in selling out than the average mind may think.
Not too long ago, rapper/producer Tyler, the Creator announced in a series of tweets his conversation and bet he made with musician Will.i.am. To swiftly get to the point, he claimed Will.i.am was selling himself out as an artist to increase his fan base and to keep his pockets flowing. Will's music has frequently been featured on commercials, been very popular on radio, but also critically panned. It also must be distinguished that the Black Eyed Peas initially were a "backpack rap" hip hop group, and also had a track on their second album produced by DJ Premier.
Once Fergie joined, the groups' musical direction changed drastically and Will.i.am over-saturated pop forever. The question that begs is could you really fault Will.I.am for taking the road commonly traveled? In the process, he's accumulated ten top 10 records including his solo efforts; three of those reached number one on the Billboard Hot 100 as a member of the Black Eyed Peas. Since about 2003, will.i.am has been a target of claims of deferring to music that will generate quantity over quality which of course, will sell more records. But, is there any good or bad that could possibly come out of fluctuating to that direction? Many have mellowed with the idea, either crossing over and keeping their fan base, crossed over and left it, or crossed over so far that they can't even question returning to their roots. Selling out in rap happens and selling out in music happens commonly.  The reasons will always vary, but the common ground to reach the goal to accumulate more wealth remains. 
The common thoughts and ideals of the music industry center around numerous fans believing musicians are normally in diverse tax brackets than the rest. While it may ring true for the smaller percentage of successful musicians, for the vast majority, the idea that they have accumulated 6 to 7 figure wealth is a misconception. Many artists may initially want to come into their particular situation staying intact with the sound that earned them a contract. The liability to remain true to their preliminary fan base usually is the mainstay reason for most artists.
But if the record produced doesn't replicate the budget assigned, then the artist or artists may be on the brink of either altering their sound for commercial reasons, or possibly, be dropped from the label. It's a reason why the majority of music on urban radio has shifted from the casual boom-bap of raps golden age of 1987-1994, to the music of today, in which the latest trends or fads are constantly and continuously presented to the listener. Unfortunately, those latest trends are what the listeners mainly want to hear, so it's the record labels job to supply the demand.
For instance, in the late 1980's and early 1990's, the state of hip hop's format was going through a massive U-Haul; politically charged anthems with a simplified message of unity in hip hop was on its way out. In its favor, gangsta rap with the image to match was presented and sold to millions. Artists, who've probably never had the chance to experience poverty or a thug life, were suddenly writing about the gruesome lifestyle in their songs. While their new found fame was eroding their pockets and popularity, the artist had to shrink their artistry and musicianship in order to sell records. 
Take for example, Ja Rule. While gangsta rap was indeed very popular and in demand, Rule and Murder Inc. knew that the eminence of the records had to match the music being played on Hip Hop/Pop radio stations and MTV. Around the time of the shift, Jay-Z, Nelly and Eminem were the chief superstars in rap and featured prominently on MTV. The decision for to "sellout" resulted in two multi-platinum (three million in the U.S. alone each) albums, six total top 10 records and a number one, "Always On Time."  His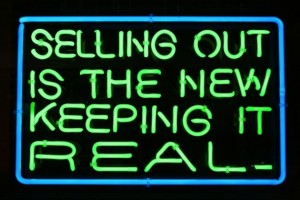 first album "Venni Vetti Vecci" sold over a million records, but whose music ignorance will take over and proclaim his decision to sell out was his alone? 
As music fans, we never understand or comprehend recording contracts, budgets, and the hold music executives have of wanting to dictate the direction of albums. Diddy, LA Reid and Clive Davis are well known music executives who also put on their producer and A&R hats to help the artist mold the sound for commercial appeal. In Rule's case, because of the positive response of achieving platinum on the strength of one top 40 single (Holla Holla,) the chances are strong that Def Jam/Murder Inc. saw the potential of Ja being a crossover icon, if not only more singles were distributed, but also if they were dispersed in the right direction, Therefore, a bigger budget is supplied, for songwriters, producers, featured guests and music videos. It's a strong, positive likelihood that Rule saw the budget, and imagined his name being mentioned as a worldwide star next to Jay-Z or say, Britney Spears.  Contractual obligations can put immense pressure on any artist. Besides advances which are immediately recouped once sales figures add up, money isn't issued out. This means, the higher the climb to the top, the more risks a musician may have to take.'|
But, does the artist have to take those risks? Can the artist just stay in their box and appease the fan base while elegantly using their budget? It can happen, that's for sure. But, it's a natural reaction to want more; you would probably want another number one single.  You also will want another number one album. You get achieve a platinum plaque? You'll want a double platinum album, and so on and so forth. Which is probably the case for rapper Nicki Minaj, whose first album contained raps that contented her original fans and followers, but also pop numbers that indicated a full-fledged pop chart attack remained assured to come. So once she recorded and released her second album Pink Friday: Reloaded, she received backlash from her original fans, but adulation from those who prefer to listen to songs that dominate and consume the Billboards.
Minaj's popularity has taken a hit via the hip hop community, since "Starships," the rapper hasn't returned to form since. Nicki had a bold assessment to make, even before the stardom; entertain her fans by continuously putting out excellent works via the underground scene to eventual lackluster or "under-performing" sales, or perform numbers for the masses, gain popularity and crossover acceptance, platinum albums and tour worldwide. Although her second album under-performed in the United States, if you understand and comprehend the peaks and valleys of music business, it's not hard to see why Minaj chose that route. Music careers are relatively short and a one-hit wonder career is even shorter. Opportunity to be a worldwide star doesn't come at a high frequency.
So, while it is easy to point to gifted musicians whose music seemed organic and appealing without the intent of producing music for pop charts, although selling records at the same time, most artists don't want to take such a chance and jeopardize their career. Lauryn Hill, D'Angelo, Kanye West, Adele etc are artists whose lead singles were innovative and radio re-designers, yet still sold millions of records on the strength of those records. But, just as it's extremely difficult to sign a deal, it's even more difficult to transition as a profit generator for the contract signed. And it's even stiffer to be a superstar without inflating your music for you targeted audience to sell records. The odds of succeeding are staggering for each level, and irrelevancy could just be minutes away. Which are why the frequency of low-in-quality but potential-in quantity songs populates urban/pop radio and online streaming/subscription services.
But if I were to take a presumption, it's a chance most of those rappers and singers are just as good as the underground MC a hip hop head may follow or the indie pop/R&B singer. But to be in the music industry, being an intellectual in terms of business and music is a must. If not, your career could diminish in seconds. Remember, the music business is just that, a business. A successful one, at that. So the next time you see a Soulja Boy video of him rapping about guns and violence, or your favorite rapper is performing a song about Molly and tweaking, remember that cash rules everything surrounded by them. And always will. 
Music Editor; Brad Washington