Desperation to Destiny.
(ThyBlackMan.com) There are periods in our lives when, because of life situations, we lose our way. During these periods, we get off track as it feels as though we are teetering toward a breakdown. These are the times when it feels like life is against us and our faith is tested beyond our comprehension. When we are in this space where our capacity to keep going is tested, we are on the verge of giving up, and we find ourselves feeling hopeless, we have entered the point of transformation. In those ever crucial moments when nothing in life makes sense and all our efforts seem fruitless, life is notifying us that change is in order. It has been said that destiny is often delivered through the doorway of difficulty. The reality is that desperation can lead us to destiny.
The truth is destiny often gains clarity through adversity. Pain is information. In life, contrast is vital for the expansion of who we are. It is impossible to grow unless we are pulled beyond the familiar. Moments of panic and distress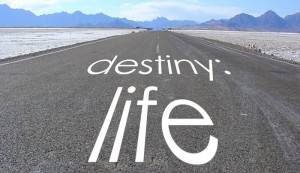 are normal when we are at life's crossroads. Everything we go through is leading us toward greater clarity. Our most critical work during those times when we feel tormented by life is getting ourselves back to a feeling of freedom rather than bondage. When we feel good…good things unfold as our reality. Life responds to our feelings, not what we think. The key to feeling better is to turn the other cheek.
Turn away from what is creating the discord. This is no simple task and goes against everything we have been taught. But as we take our focus off that which is the root of the agony we are experiencing…we move into a place of release. The answers, solutions and next steps begin to arise when we let go. Remember those times in your life when you were in a good feeling space? Everything in your life unfolded with ease. The resources, connections, ideas and opportunities all appeared during those periods when you were in the "feel good" zone.
Keys to getting into your "feel good" zone:
Upon awakening spend 5 – 10 minutes imagining the life you desire
Journal your thoughts with a focus on the things that are going well and the learning you are experiencing from life's contrast
Distract yourself from what is by listening to music that inspires you, reading inspirational materials, walking and doing those things that put you in your joy
Eliminate negative talk and avoid those who rest in a negative space
Several times per day, remind yourself that "all is well" 
We are responsible for the story of our lives. The good news is that we can hit the reset button and redirect our lives at anytime. It is our job to create the lives we desire. We must do the daily work of focusing our energy and thoughts. Each of us has the power to redefine our experiences to create a new reality. There is no reason to remain in despair. James Baldwin says "your crown has already been bought and paid for. All you have to do is put it on."  Summoning the courage to relinquish the familiar fear-based perspective requires you to remember who you are, and not defining yourself by the adversity you have endured.
As you take your personal power back by reminding yourself that everything is working out for your betterment, you change the trajectory of your life as you rewrite the script of your life from a place of empowerment. Fulfillment is experienced when we set the course of our lives and align our thoughts and action toward our destinies. As you begin affirming a new story, one that honors the power within you, a renewed sense of peace evolves. Life becomes an exciting tapestry of lessons all leading you to greater fulfillment. 
Staff Writer; Harold Leffall
Who Is Harold Leffall? He is a student/teacher who is committed to sharing the lessons of limitless living to those who are ready to create and live a new reality. Harold has written two books, Brother CEO and Living from Within. He has been featured in Black Enterprise, Best Self Altanta, Essence and Entrepreneur magazines and host the TV show "Moving Forward with Harold Leffall."  He has also appeared on OWN, BET and TV On; http://www.haroldleffall.com.