Well, Does Being Light-Skinned or White Make a Bad Woman Appear to be a Good One?
(ThyBlackMan.com) A woman reached out to me on my Facebook page and asked an interesting question.  She asked me if dark-skinned women are "frowned upon."   I wasn't sure what to think about the question, but it certainly gave me a moment of pause.  She said that she has a daughter with dark skin and was concerned with all the male celebrities who seem to think that lighter is better.  I felt bad to hear the words "frowned upon" being used, as if a person is choosing to have darker skin and breaking some law because of it.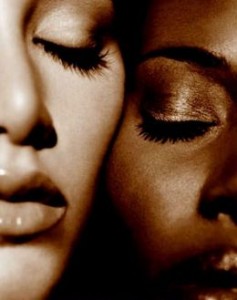 She also made an interesting point about men who will pass over intelligent, high-quality black women for a lighter skinned or white woman who doesn't bring nearly as much to the table.  One shining example might be Kanye West, the son of a brilliant black female professor who chose to marry an untalented, twice-divorced reality TV star who got her start with a sexx tape.
Here is how the conversation went down:
Question:
Hi Boyce, there's a trend amongst the black celebrity men that seems to be for them to date/marry white or racially ambiguous women. It doesn't seem to be any particular intelligence or personality requirement, just color– well, maybe their body too. I compiled a list of black men that fit this description (below). Why do you think darker black women are generally frowned upon?
Kanye

Big Sean

Jay Z

John legend

Michael Jackson

Kobe Bryant

Shaq

Bow wow

Lil Wayne

Eddie Murphy

Jamie foxx

Arsenio hall

Ralph tresvant 

Lamar Odom

Blair Underwood

Xzibit

Martin Lawrence

Chris Rock

Dave Chappelle

TI

Rev run

Russell Simmons
I never thought that skin complexion was something that could be subject to fads, like hairstyles or new shoes.  At the same time, I did notice in the 1990s when being a dark-skinned black man suddenly went from being a source of shame to the hottest thing on the planet.  I grew up in a family filled with lights-skinned people, and I noticed the difference in the way some people react to a person with fair complexion relative to the darker person next to them.
Does black America have a color complex or is that a thing of the past? I'd love to hear your thoughts on this.  I honestly don't have much else to say. 
Staff Writer; Dr. Boyce Watkins
Dr. Boyce Watkins is the founder of the Your Black World Coalition. For more information, please visit http://BoyceWatkins.com.