Rev. Marvin Winans: Don't Just Preach Us A Sermon, Live Us One.
(ThyBlackMan.com) When I first heard that Rev. Marvin Winans (of the gospel-singing Winans klan) refused to receive and Bless a child before his congregation because the child was born out of wedlock, I thought it was just another one of those ridiculous urban legends, because no Black minister could be that pompously out of touch with reality (I specified "Black minister" because Pat Robertson is White, and I'm not surprised at anything he does), and certainly no one with as high a public profile as Marvin Winans could possibly be that big a fool.
.
But it turns out that it's not just a rumor. During an interview with My Foxdetroit.com, Ms. Charity Grace indicated that she and her son, Joshua, recently began attending Perfecting Church, which is presided over by Rev. Marvin Winans. Recently the churched announced that it was having a special service dedicated to blessing children two years old and under. Upon hearing the announcement Ms. Grace became quite excited over the prospect of having her son blessed by the church. In that regard she said, "I want to instill values and morals in my son based upon the word of God."
.
But when she contacted the church to make arrangements to have her son participate in the service, she was told that "Pastor Winans' policy is that he is not to bless children of unwed mothers in front of the congregation." Ms. Grace said, "I've never felt so degraded and disrespected in my life." She goes on to say, "The church is the last place you go and be judged and denied."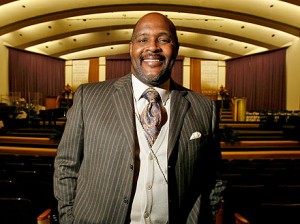 .
And she's absolutely right. How can Pastor Winans profess to be teaching his congregation to follow "the word of God" when he's ignoring it, or is ignorant of it himself? Matthew 7:1-5 of the King James version of the Holy Bible is very emphatic in saying the following:
.
Matthew 7:1-5
.
"(1)Judge not, that ye be not judged. (2) For with what judgment ye judge, ye shall be judged: and with what measure ye mete, it shall be measured to you again. (3) And why beholdest thou the mote that is in thy brother's eye, but considerest not the beam that is in thine own eye? (4) Or how wilt thou say to thy brother, Let me pull out the mote out of thine eye; and, behold, a beam is in thine own eye? (5) Thou hypocrite, first cast out the beam out of thine own eye; and then shalt thou see clearly to cast out the mote out of thy brother's eye."
.
So the Bible itself is calling Winans a hypocrite. Ms. Grace was clearly pure of heart and had a Godly mind-set when first, began to take her son to attend church, and then, made the conscious decision to have her son blessed by what she thought was a "man of God." So it is indeed ironic that she had to go to church to be greeted by ignorance and evil. Listen to the words of one God-fearing, good, and loving Christian. She posted as Tia on the "Old Black Church" website:
.
". . .let the word of god be true, and every man a liar. Romans 3
I agree with pastor Winan's decision. This epidemic in our community has gotten out of hand. As my grand mother used to say in the old church "somebody's got to have some sense". People continue vicious destructive cycles because no one stands up and says the behavior is wrong," the emperor has no clothes." Instead of running to the news trying to embarrass pastor Winans, she should have trimmed the bushes and grass in front of her nasty home that she allows the baby to exist in. Black women's priorities are totally messed up. Instead of taking care of the home, shes out trying to run up in churches showing off the number one sin (not the child, he's innocent and blessed already, . .UNTIL THE PARENTS MESS THEM UP) that impacts our community in a negative way. This woman is almost 40 yrs old (not a teen pregnancy "mistake" by any means). She should know better, but she doesn't. And she doesn't try and get teaching and understanding from the church as to WHY they have to have a standard, and not kow tow to any and everything. No, she has to like a devil, strike a match and walk away. Now the only thing pastor didn't do that he should have is get on NATIONAL news and give these baby makers reason why he will not allow his church and the body of Christ to be taken over by these selfish, show off, want to be seen, attention seekers, pageantry seeking harlots to use the church as a showplace.

I can see it now, Sunday service 10 or 12 women parading their multitude of "dressed up" kids across the front because you know once something catches on with black women, it becomes a fad and takes over until it is ruined. Like our communities, school systems, neighborhoods, welfare systems are being ruined by this trifling behavior. The babies are "cute " until a certain age then turned out into the streets to become society and jails problems. We can't afford to continue ignorance breeding ignorance. Now after its messed up society, they want to infiltrate the CHURCH. The rules have been set. Abide by them and learn. She doesn't know she's the one who looks like a fool, not Pastor Winans. He made his bones, and its still HIS bones, not hers. Guess she has to take her mess to a church that puts up with it. Leave normal people who stand for something alone. God will NOT allow the devil to take over his house . I CAST THEE OUT!!!!!!!!!!! . . ."I cast thee out."

.
If that's one of his loving, God-fearing Christians, the reverend's obviously not doing a very good job. I haven't heard that kind of mean-spirited, un-Godly, viciousness since I witnessed two dope fiends fighting over a crack pipe in the parking lot of fire ravaged pool hall. But considering the reverend's reckless approach to scripture, I can fully understand how his flock would have something less than a perfect grasp of what it means to be a Christian. What the lady fails to understand is, if everybody who has had sex outside of marriage had to leave that church, there wouldn't be enough members left to throw a card party – and I'd be willing to bet that she and the good reverend would be among the first of those who'd have to escorted out the door. That's generally how things work with self-righteous hypocrites.  But the most important thing that she fails to realize is the reverend is suppose to me disseminating the word of God, not the word of Winans. Disciples of God are suppose to be humble servants, not pompous, self-righteous dictators. So, ironically, it seems that, in this case, the only one that was acting in a Godly fashion was the one that the church turned away, Ms. Charity Grace.
.
But unfortunately, it seems that hypocrisy is not be so much the exception as it is the rule in this country. True Christians seem to be exceedingly rare in this country. The primary reason for that is Christianity as practiced in the United States was founded upon hypocrisy. Americans tend to believe in a redacted version of the Bible. The true meaning of American exceptionalism is that we have a firm and fundamental belief in everything in the Bible EXCEPT those things that tend to interfere with our particular form of bigotry.
.
It's no accident that what we refer to as "The Bible Belt" is renowned for being the most bigoted and intolerant region in this country. The reason for that is the religious community is the perfect environment for social bigots. Because under the umbrella of religion, bigots are free to hate in the name of God: "It's not that I hate everybody who don't look, think, and act like me – it's just that God does."
.
It's exactly that kind of mentality that made it possible for "Love thy neighbor," and "Lynch thy nigga," to comfortably coexist in the South without a shred of guilt or cognitive dissonance. They simply ignore or contort anything in the Bible that doesn't fit comfortably into their delusion of reality.
.
Another example of that is how preachers routinely ignore the Biblical's prescription that we pray in private, and that they not strut around in $1200 suits and roll around in Escalades. Again, the Bible is clear. It says that those who run around praying out loud for public consumption is getting their reward right here on Earth:
.
Matthew 6:1-34
.
"Beware of practicing your righteousness before other people in order to be seen by them, for then you will have no reward from your Father who is in heaven. "Thus, when you give to the needy, sound no trumpet before you, as the hypocrites do in the synagogues and in the streets, that they may be praised by others. Truly, I say to you, they have received their reward. But when you give to the needy, do not let your left hand know what your right hand is doing, so that your giving may be in secret. And your Father who sees in secret will reward you. "And when you pray, you must not be like the hypocrites. For they love to stand and pray in the synagogues and at the street corners, that they may be seen by others. Truly, I say to you, they have received their reward. …"
.
But again, these preachers and Bible thumpers aren't about to let a little thing like "the word of God" interfere with their false sense of righteous superiority, and their money-making potential.
.
Thus, while spirituality and the belief in a force greater than yourself is a good thing, the problem with organized religion is that man has set himself up as God's emissary and Chief Operations Officer. So in the final analysis, what we end up calling "faith," is not faith in God at all; it's faith in man, and what they tell us about God. Thus, many so-called Christians, like the "lady" who commented above, are not worshiping God, they're worshiping preachers, like the good Rev. Winans.   But as the current matter clearly demonstrates, these peachers have neither the wisdom, knowledge, intelligence, nor morality, to speak for God.
[youtube YiwmwrWzoKg]
Staff Writer; Eric L. Wattree