My People, My African-Americans…
(ThyBlackMan.com) Are you proud of your African-American culture?   
Many sociologists allege humans are born without culture. For virtually anyone, culture begins with the family and continues through other social agents such as school, peer groups and mass media. This lesson follows the general process by which people develop their personalities and learn about the world around them, a process referred to as "socialization."
Socialization is the lifelong process by which people develop their personalities and learn about their culture. For virtually everyone, that process begins within the family, during the earliest days of life.
In my previous column I investigated the idea of buying black. Am I foolish, silly, and idiotic? The wealth gap between white and African-American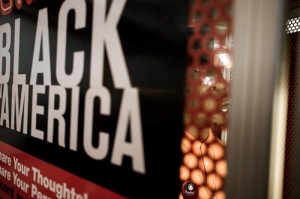 families more than quadrupled from 1984 to 2007. Financial assets, excluding home equity, among white families grew from a median value of $22,000 to  $100,000, while African Americans had a median wealth of $5,000. The data indicate black consumers pay more than whites for accessing credit. My question is why are some of our African-American youth spending $180 on gym shoes?
Most of us have long recognized the importance of peer relations in the lives  of young people. Dr. Carter G. Woodson wrote in his book The Mis-education of the Negro, "When you control a man's thinking you do not have to worry about his actions."
I am sure you are aware that the recent release of the Nike Retro Air Jordan basketball shoes resulted in fights, arrests and the use of pepper spray. No one anticipated the hysteria around the original Air Jordan, which spawned a subculture of collectors willing to wait hours to buy the latest pair. But the shopping frenzy over the shoe had died down in recent years.
In Seattle, police officer Mike Murphy said more than 1,000 people lined up to buy shoes at 4 a.m. at four stores in the Westfield South center mall. He said police used pepper spray on about 20 people who were fighting, while one man was arrested for assault after police say he pushed an officer. These latest incidents seem to be part of trend of increasing acts of violence at retailers this past holiday shopping season, as police tried to calm frenzied shoppers.
And don't forget the controversy surrounding one of the most profitable and wealthiest companies on the planet. Nike was investigated for how it has exploited workers in Asia for financial gain after moving the majority of its production away from its headquarters in Beaverton, Oregon.
We live in the world's wealthiest nation. Yet 13 percent of people living in the United States live in poverty. Nearly one in four children lives in households that struggle to put food on the table. That's 16.7 million children. I wonder how many are wearing Nike.
Cornell and Washington University researchers report the great majority of African Americans experience poverty during adulthood. Their findings show that nine out of every 10 black Americans, or 91 percent, who reach the age of 75 spend at least one of their adult years in poverty.
Of the thousands of the black people who bought the Air Jordon shoes or were involved in the incidents, I wonder how much did they donate to the homeless or to hungry people or to charitable organizations? How many are receiving benefits from the government or charitable organizations? How many are suffering from a debilitating illness?
Dr. Carter G. Woodson said, "If the Negro in the ghetto must eternally be fed by the hand that pushes him into the ghetto, he will never become strong enough to get out of the ghetto." He wrote, "It may be well to repeat here the saying that old men talk of what they have done, young men of what they are doing, and fools of what they expect to do. The Negro race has a rather large share of the last mentioned class." I bet most of them are wearing Nike Retros. Is it cultural?
Written By Bernie Hayes