Is T-Pain an Uncle Tom? Should Hip Hop Treat Him the Way Country Treated the Dixie Chicks?
(ThyBlackMan.com) "But they use you for an example. They would rep' but our heroes got their hands full"
-These are our Heroes-Na-s
Sellout; Sambo; Uncle Tom. These are all terms to describe someone who turns his back on the black community to serve the interests of white supremacy. While these terms have usually been reserved for the likes of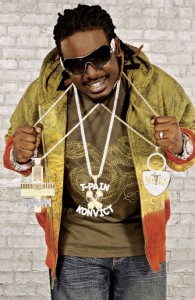 Conservatives such as Clarence Thomas or Michael Steele, today we have to add some Hip Hop artists to this dis-honor roll. One being Faheem Rasheed Najm, known to the world as T-Pain.
Recently, Right Wing hitman, Sean Hannity posted a video on his website featuring T-Pain big uppin' his Fox News television show. Not only that, but when Hannity asked him to say "Conservative victory in 2010? in pure "yessa boss" fashion, he gladly agreed.
This is just another part of the recent trend of the Right Wing to get a black co-signer to prove once and for all that they are not the bunch of racist bigots that we think they are. Recently, there  was attempt by the folks at Fox News to use an old interview LL Cool J to promote Sarah Palin's new reality show.
Historically, black entertainers have shied away from taking overtly political stands. It must be remembered that even during the height of the Civil Rights movement, music giant Motown had its artists sitting on the sidelines while black folks were fighting in the streets for equal rights.
Entertainers have had, perhaps, just cause to be a little cautious. There is a long history of persecution of those who dared to use their popularity as a bully pulpit to speak truth to power.
It is rumored that Billie Holiday's 1939 anti-lynching anthem "Strange Fruit" was banned by radio stations. Paul Robeson was blacklisted for his open embrace of Communism and Eartha Kitt was persecuted for her statements against the Vietnam War.
During the late 80's and early 90's, Hip Hop artists such as Public Enemy, Ice Cube and Ice T all felt the wrath of the establishment for daring to rap about something other than gold chains and Air Jordans. The list goes on.
So most entertainers got the message and stuck to singin' and dancin'.
This fear of taking political stances is not just limited to musicians but athletes have also been cowards. During the early 90's, basketball legend Michael Jordon refused to donate any money to build a black cultural center at the University of North Carolina; avoiding the fate of former teammate, Craig Hodges, whose Afro-centric activism, allegedly, resulted in his being blackballed by the NBA for a time.
This legacy of political apathy and persecution  is what makes T-Pain's photo op with Hannity so alarming. There are many worthy black empowerment organizations that could have used his endorsement to help their causes. Instead he chose to give fuel to a racist Right Wing machine that has been running rampant since the '08 election.
While there are some who will argue that T-Pain's actions are just an example of a politically naive hood dude being bamboozled by the media savvy Slick Sean Hannity, I doubt that this is the case.  I am sure that neither T-Pain nor his handlers would have allowed his picture to be taken with Rev. Jeremiah Wright or posing with a copy of "Message to the Black Man."
I didn't buy the late gangsta rapper Eazy E's flimsy excuse for attending a George Bush Sr luncheon nor do I buy the idea that T-Pain's Conservative endorsement was just a gag. As we approach the mid -term election season, the stakes are too high to play sophomoric games with the lives of poor folks.
It is a widely accepted myth that Hip Hop artists share the same socio-political ideology as their constituents in the hood. Perhaps the sad fact is that the multi-millionaire rappers have more in common with the wealthy, Right Wing Conservatives than they do with the strugglin' people in the 'hood whom they are supposed to represent. Maybe, the video with Sean Hannity  and T-Pain was, merely, about two rich guys having a chuckle over the gullibility of their fans.
It has ,also, been assumed by Hip Hop conspiracy theorists that rappers and Conservatives are in cahoot's, just using the classic  "every hero needs a villain" scam. Despite the faux Fox morality of commentator's like Bill O'Reilly, the Right Wingers, actually need rappers to use as poster children to justify their accusations of the "failure of big government," in order to advocate for the elimination of social programs to help the less fortunate.
Hip Hop fans must handle T-Pain with the same passion that  hardcore country music fans used to deal with the Dixie Chicks after they criticized George "G-Dub" Bush.  If Jay Z can criticize T-Pain for the over use of the auto-tune, Hip Hop headz should be able to criticize him for being used as a flunky for the Right Wing.
We must begin to hold rappers accountable not only for their lyrics of violence and misogyny but also for their political stances that run contrary to the needs of the children in poor and oppressed communities.
Until he denounces the Right Wing's attack on the 'hood, the "T" in T-Pain will henceforth and forever more stand for "Tom."
Written By Paul Scott