EA Sports UFC 3 Review: A Second Opinion.
(ThyBlackMan.com) When it was released in February, EA Sports UFC 3 reviews were positive. It was EA Canada's most important release in the first quarter. Although the game received positive feedback from a majority of media outlets, many players who decided to buy and play the game on the first day or through early access were complaining about several things. If you also decided to try the game but that didn't happen, now you can buy it at discount. But is it worth your money and time?
You would love playing UFC 3 if…
UFC 3 is the best game yet in the UFC video game series. The complete overhaul of the striking system and appealing career mode are some of the biggest reasons why anyone would love UFC 3.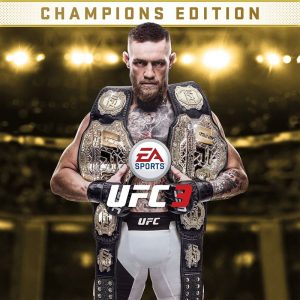 Bringing Mixed Martial Arts in a video game is challenging, and with the UFC game series, developer EA has done a fairly admirable job.
Striking in the series has always been a strong element and EA Sports UFC 3 makes it technically sound in every possible way. Those who complained about grappling in the previous games, with the gameplay improvements, UFC 3 delivers the best smooth gameplay ever.
Improvements in balancing part are significantly noticeable as the tweaks made to the block mechanic and fighter stamina are quite impressive in the stand-up game. Visual appeal has never been an issue with UFC games and with time, things are only getting better and EA is listening to fans.
The high-level of graphic-rich environments, especially the character design is favorable. When you have hundreds of characters in a video game, it's not easy to give fair treatment to each of them, but here you won't feel any compromises in design. But one thing should be noted that it is not perfect because some characters are not presented in the way they should appear in the game.
There's nothing much to see in arenas as you only see them at a certain period of time, but the overall design is acceptable. With the game's audio and commentary, you get a similar experience. Thankfully, there's an option to completely mute the commentary so that you can save yourself from disappointment at some points especially when the commentators appear to be too talkative.
Finally, developers at EA paid attention to the Career mode and Ultimate Team. These two areas have got much-needed improvements. This time you get to see real-life fighter card in the Ultimate Team. The Career mode also received fair treatment this time. In fact, it is the most enjoyable part of UFC 3.
You would hate it if…
If you don't appreciate shameless in-game requests to spend real money, UFC 3, specifically the Ultimate Team part will disappoint you. Although it's not a pay-to-win scam, you can earn free currency and open the cards, but you can also buy the currency with real money and get things done quickly.
Not always, but there are moments that make you feel bad about the UFC 3. Sometimes, the game appears to be unrealistic in terms of the amount of damage a player can take. In real MMA you won't see fighters being dropped several times and still remain unaffected, but sadly it happens in UFC 3.
The Ultimate Team mode looks appealing and it is very engaging. But even if you completely ignore the microtransactions, the game mode still has flaws. Why spending time on other modes is a good idea because Ultimate Team mode is slow, especially the progression part. There are some serious issues with customization as the options don't always work as you expect them to work and sometimes the customization options are purely random.
Keeping functionality in mind, EA Sports UFC 3 earns respect for its features and technical improvements. Despite its missteps like the shoddy ground game, and flawed Ultimate Team, UFC 3 is the best MMA game in the series.
Staff Writer; Corey Shaw
Have any Tech Tips? News? Hit up our Tech Guru at; CoreyS@ThyBlackMan.com