iPhone 7 vs Samsung Galaxy S8: We Haven't Got The Best Smartphone Yet.
(ThyBlackMan.com) No matter how many iPhone 7 vs Samsung Galaxy S8 based reviews we read, both Apple and Samsung have impressed us very well. iPhone 8 rumors are at peak, but it's better not to rely on what the so-called reporters are saying about what still remains unannounced.
If you have bought any of the two phones, you've now experienced that your device doesn't disappoint you. But as amazing as Apple's iPhone 7 is, and as beautiful as Samsung S8's display is, we still can't say that we have got our hands on the world's best smartphone; because it doesn't exist.
Here's how the iPhone 7 vs Samsung Galaxy S8 battle proves that we are still far away from the perfect phone.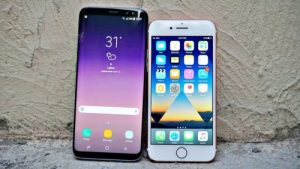 Software is always important, and when we compare Android and iOS, Apple seems to be delivering smoother and better operating system in its iPhone product line. With steady updates and clearly visible software feature upgrades, Apple is doing things in far better ways.
Samsung has introduced the latest version of TouchWiz known as Samsung Experience, but still, iPhone beats it. The iPhone 7 vs Samsung Galaxy S8 comparison also suggests that Samsung is trying to make a new start with Samsung Connect but we have already seen Apple's highly improved Continuity features. Software is not always the major consideration for many users, but for some, it matters a lot.
When we look at both the iOS and Android, it seems that the companies these days are simply making us wait for small updates. The hype created on the basis of rumors and speculations helps develop images about the end products, but when the products arrive, a clear, different picture comes out and most of the times, the hopes fade away.
None of the operating systems give the ability to freely use their software. There are certain limitations in both the iOS and Android that make it hard for the customers to choose one as they have to make sacrifices in both the cases.
When you're buying a mobile phone, especially a smartphone, you look for what else it can do other than making calls and sending and receiving texts. Apps play an important role in how successfully a smartphone caters to your needs. Google provides its users with an ocean of applications and mobile games available to download from Play Store. On the other hand, Apple's store is known for bringing highly secure and better applications than Android.
When it comes to user experience, Apple beats Google as the Google's third party developer guidelines appear to be weak and its developer tools are also not as strong as what Apple offers. So, if you're going with Android, you will be able to access a large number of applications, but you will also have to deal with the crap dropped by every Tom, Dick and Harry.
The iOS applications are refined to an extent that they simply turn off casual users and developers. It is undoubtedly a great way to cut the crap, but it also limits publishers to expand their reach. If you compare the same applications on the two platforms, you will observe the difference in the level of services and ease of use.
If you ask the iPhone 7 vs Samsung Galaxy S8 question to any tech enthusiast, you'll find that the Samsung Galaxy S8 is superior to iPhone 7 on many fronts. Curved edges sporting a narrow bezel make S8 a phone from the future. The phone looks better in hand, it also looks smoother and more comfortable than the iPhone 7.
Samsung's new OLED 'Infinity Display' is brighter, sharper and better than the iPhone 7's LCD display which is absolutely dated, just like its design and overall appearance. But when we compare their performance, despite being equipped with Snapdragon 835, Samsung Galaxy S8 doesn't beat iPhone 7 as the latter outperforms the S8.
Overall, both the devices are offering their best, but people are tired of being tied to a particular OS ecosystem. The iPhone 7 vs Samsung Galaxy S8 battle is no more interesting. The boundaries can't be broken, of course, but bringing significance in both software and hardware upgrades is what everyone wants.
Staff Writer; Corey Shaw
Have any Tech Tips? News? Hit up our Tech Guru at; CoreyS@ThyBlackMan.com.