Yo Rev: More Prosperity Less Humility.
(ThyBlackMan.com) The views expressed in this commentary are those of the writer and is not a rebuff of the ministry and its practitioners. Nevertheless, if the pulpit robe fits, then wear it!
One morning while viewing a church conference broadcast, I listened as the minister explained to the congregation, the Benefits of  Humility. He stated the usual rhetoric, of  how we should strive to maintain a steady flow of warmth and compassion. Then he ventured into economic theology and shouted, "I Don't Need Riches, All I Need Is Enough to Get By."  By now the congregation were on their feet screaming "Amen," and urging the man to "Preach Rev."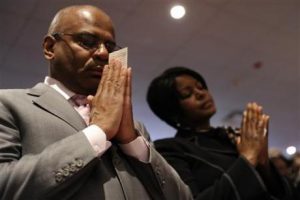 Listening to the minister as he continued his sermon, I wondered why the Black clergy is notorious for telling parishioners to settle for less. I don't mean to sound cynical, but I'm tired of being told I have to accept mediocrity, when I have a creator who supplies all my needs.  All I have to do is ask.
This frivolous theology wherein members are told to be content with "getting by," is so prevalent; Blacks are convinced it is their fate to scrounge on crumbs while the rest of the world eats filet mignon. What's behind this concept?  Why is it taught?  And why does the African-American clergy find it so popular?
Preaching from atop a mountain, Jesus told the multitude "Blessed are the poor in spirit, for theirs is the kingdom of Heaven." Matthew 5:3. In recalling that verse, nowhere is it written that Jesus said, "Blessed are those who settle for getting by, for they shall inherit the earth." Let's get real, okay?
What's wrong with a minister telling parishioners that daily living, requires more than "getting by?" They don't share that philosophy regarding their own  finances, do they? As a mild-mannered Baptist, who doesn't have the time or patience for petty sermons,  I've heard ministers say how satisfying it is to give 10 percent of your earnings to the church.  Unfortunately, a large portion of that money finds its way into the ministers' pockets. It's ironic that ministers  speak passionately about "getting by." But, I have yet to see a preacher refuse an offering, or turn down a salary. Is that silence I hear echoing from the pulpit?
In pointing out the virtues of economic humility, they forget to mention that in traveling throughout Galilee and ministering to people in Jerusalem and beyond, Jesus never took money for preaching the gospel or teaching in the synagogues. And based on the ministers I've heard over the years, many don't deserve financial compensation, not even a penny. I know that's cold, but so is the preaching.
If given a choice between "getting by" and having ample financial provisions, I'll take the latter. Yes, preacher tell them they don't have to settle for less, or just enough to get by. Can I get an Amen?
Staff Writer; Peggy S. Butler
One may also view more of this talented writer work over at; http://peggysbutler.com. Also feel free to connect via Twitter; http://twitter.com/peggybutler647.