Chris Brown, Karrueche Tran relationship so toxic, death threats from the RnB star.
February 27, 2017 by Staff
Filed under Uncategorized
(ThyBlackMan.com) Karrueche Tran filing a restraining order on Chris Brown shows Brown may never change.
For youth today, they see Chris Brown as a star singer who has a reputation as a bad boy. To 20 something and up folks like us, Chris Brown is just a talented, formerly emerging singer whose career took a dip after February 8th, 2009. Of course, the incident that happened that night, involved Chris Brown physically assaulting his former girlfriend, Rihanna. Since then, while singles-wise Brown has achieved success, his overall career album-wise, has suffered. Instead, Brown has appeared to have concentrated his efforts on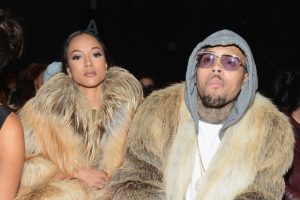 achieving bad-boy fame, to supplement the fame he inherited from 2005-2008. With the report on Chris Brown that another old flame, Karrueche Tran has filed a restraining order alleging that Brown threatened to kill her, it may be time to give up hope that Brown will eventually change.
Instead, we must realize that the attention Brown gets for his bad behavior has gotten more important than the goal for Brown to be a successful artist. Now granted, as much of a fan I am not of Brown and his antics, it's hard to not see why he would choose the route of "any attention is good attention." Of course, this helped to focus his career on keeping his name in the news which also helped the exposure of his music.
But, there has been a price to that, in which his behavior has also directed his musical vision, releasing raunchier music that reflected his persona. While he did try to keep releasing happier (and well-received) tunes post-Rihanna incident, the album sales would eventually reflect the quality of his music. Instead, his persona overtook the music, and with the threat on Tran, it will continue to reflect it for Brown.
Chris Brown will soon be 28 years old and it could be safe to say he won't be the platinum artist, or even the superstar he was projected to be in his career. But, Brown at this point in his life needs to consider his consequences and whether or not the attention he craves is legit or just superficial. Bad behavior tends to gain attention faster, which of course is the route Brown took. But, threatening to kill a woman, or better yet-anybody, is never okay. The report that Brown has punched Karrueche Tran in the stomach twice several years ago, although just an allegation/claim from Karrueche Tran, isn't okay either if true.
Hoping Chris Brown to get his life together may be a stretch at this point. Hopefully, Brown will one day want the change for himself, and not continue to put himself in bad predicaments.
Music Editor; Brad Washington
Also connect with this brother through Twitter; http://twitter.com/theGURO15.