The Heat Of Passion…
(ThyBlackMan.com) Hungry….why wait? The question has been blasted in our eardrums from the famous snickers commercials and too deeply engrained in the American consciousness, because now it almost completely reflects our way of life. Do everything quick and easy,  for fast and instant gratification. True enough hunger on any level is what motivates us to create, what drives us to be innovative, and what causes us to thrive, but too often we confuse the passion in our soul to manifest and achieve greatness, with a different kind of passion. It's the easy pitfall of human nature, until we purposely elevate our spirit to the occasion. No doubt this could seriously explain why when a black girl walks through a crowd of black guys the cat calls are explicit, or why more times than not, there will inevitably be some guy, looking at me like I'm a ham sandwich.
We can continue to blame pain, hunger and the lowliness of the streets for the degradation of ourselves and others. But the fact is that not only black men, but men in general who have tasted the glory of success have the same glare. Often those with achievement under their belt are even more aggressive, not from a hunger for love itself, but a heightened sense of entitlement to it. The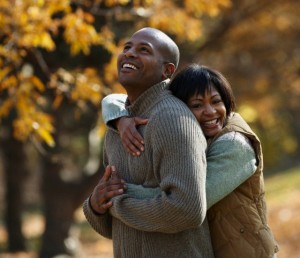 success levels may vary, but the cause is still the same: issues with confidence, adequacy, self-worth or the lack thereof. Whether one truly is need driven or just ego trippin', it's instilled from culture to have our eye out for that thing that's beautiful, that we think will add meaning, make us whole and totally complete, but we already are. Its perfectly natural for a man to want his female counterpart, but its not natural to be so lost without it, that you can't control yourself. 
It's also true, that "a man leaves his father and mother and is joined to his wife, to become one", and that "An excellent wife is the crown of her husband", but  only a true king is fit for a crown. Empowerment not only comes from money, cars, and status, it comes from honoring the values and principles that are based in love, in such a way that you become a king not only in word, but in action and in character. The wholeness in us comes from our natural love, the fact that we were born is our glory. It is our responsibility to take our lives and make something honorable of them. R&B singer Ne-yo hit the nail on the head in his 2008 song "Make me Better", when he proclaimed "I'm a movement by myself, but I'm a force when were together". We have to first understand that just as individuals we're already a movement, and live a life that's concurrent with it. Anyone else is only an attribute to our swag. Nobody can give us glory and we cant earn it, because we were already born with it, but it only comes when we grow up and stop looking on the outside for affirmation. We spend so much time chasing a love on the outside, that we neglect the one that comes au naturale.
The natural love we find in faith makes us more than adequate, It makes us whole, so much so that were not looking to receive anything from anyone else, or being so full of pride that we can't commit to one person. It's so important to be whole as an individual because our minds are so powerful. Our minds heavily pick up on our intentions. Have you ever wondered what it meant in the Bible, that "anyone who looks at a woman lustfully has already committed adultery with her in his heart"? It is because in our "looking" (rather in our mind) we can already violate a person as an individual, instead of with love and fellowship we literally just saw them as someone to screw over. This is overcome by being honest with ourselves, honoring God enough to incorporate the love for our own lives by manifesting the destiny He has for us, only in a relationship with Him can we do this. In this state we're not looking at anybody for anything, we're looking solely to God. The fear to be glorious and looking for someone else to fulfill our love is not only adultery to God, but it's an everyday sin against our authenticity, a breach of contract in the greatness we are supposed to be. Perhaps its not inadequacy that continually causes a bad romance, but the lack of engagement to pursue growth, refusing to aim higher. "Our deepest fear is not that we are inadequate. Our deepest fear is that we are powerful beyond measure." says Marianne Williamson  author of "A Return To Love". Amongst other critical issues the cycle of babies having babies, the "down-low" culture, and the divorce rate in America, all boil down to a people still limited and scared to manifest the love of God within themselves.  
God's love for us is where our true glory lies. We find wholeness in the production of our purpose. The right help and loved ones come along with us just handling our business.  True love only comes from God, trying to substitute it everywhere else only creates a down fall, as black culture has been concerned a major one. By refusing to grow up and incorporate personal power, By glorifying sexual gratification instead of balance; too many papas continue to be "rolling stones". This is what has continually left  black kids not having fathers to be examples of how love is really supposed to work. It leads to a continuous cycle of babies not only having babies, but raising them."Train a child in the way he should go…" Wait, how can we train a child if we ourselves are still children? There needs to be a point when not only black people, but all people accept the pains of their history as the process of growth. Love comes in lessons. It is knowledge that empowers us to move forward.
"When I was a child, I spoke as a child, I understood as a child, I thought as a child: but when I became a man, I put away childish things.(1 Corinthians 13:11), such wisdom and self-worth comes naturally through fellowship with God. "…the Lord disciplines those he loves,and he punishes everyone he accepts as a son. Endure hardship as discipline; God is treating you as sons". Don't be afraid of engagement, embrace it, balance and discipline are a part of  life and true love. So many ditch commitment to stay wild and free, to never grow up, but growing up is and essential part of prosperity. The One who holds our wisdom is the greatest love of all. We grow up not to be alone, but to gain life in and for ourselves. If no one else has our back, there is one who does. Maybe we leave mother and father, but we should never leave God. The ardency of God's glory is the heat of our passion, what perpetuates the dynamics of an intrinsic, well lived life. This love above all else is the love we save, and it's the love that saves us.
Staff Writer; April Byrd
For more articles by this talented sister feel free to visit; Breath Of Life Daily.