America's Super Black Nanny…
(ThyBlackMan.com) Most of us have heard of the show, The Super Nanny, which centers on London born Jo Frost and her career as a professional nanny.  The show debuted in the UK and soon began airing in the US in January 2005. 
Now cable's Life Time Channel has created their version of the nanny.  The show is called America's Super Nanny.  It appears that the Life Time Network has taken a different spin on this type of reality TV.  Deborah Tillman, an African American woman is the new America's Super Nanny.   She visits the homes of parents throughout the U.S. who need guidance in raising their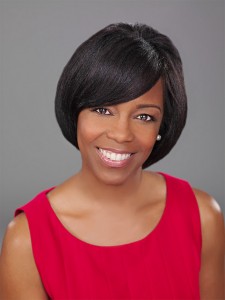 children. 
According to mylifetime.com she wowed the producers with her charisma and firm, but loving philosophy to caring for children and her natural ability to connect and work with families that have relationship problems.
Did they say charisma and firm?   Naturally I am wondering how firm she is going to be.  I'm just curious. I'm sure Tillman won't bust out with an old fashion butt whipping.  Will she make them stand in the corner for time out or just knock them out?  Will they drive her to put her hands on her hips, roll her eyes to the back of her head and give them a good talking to, such as our mothers and grandmothers did? 
Of course not!   The FCC won't allow it and actually after viewing a few takes of the show I can say that she only displays her skills, knowledge and experience in working with children in a very professional manner.   
Tillman is from Virginia.  She is a wife, mother and author.  She has more than 19 years of experience in early childhood education, working with infants, toddlers, preschoolers and elementary school students.  Unlike Frost, Tillman has no experience working as a nanny, but she does hold a Bachelors Degree in Business Administration and a Masters in Early Childhood Special Education and she has practical experience in raising her own children.   She is also an author and workshop facilitator on the subject of child care.
I believe her being a mother, wife and working mom will allow her to bring a different flavor to this type of reality television.  Tillman may also empathize and have a special understanding of what the parents are going through, being that she is also a mother.
Tillman's career in childcare grew out of her frustration with horrible daycare services that were being given to her son.   Instead of just accepting it she took matters into her own hands and started her own home day care in 1992.   She eventually outgrew her space and was forced to move to a larger area.  She now has daycare facilities in three locations within the Virginia area.
Obviously Tillman convinced the producers that she was the right person for the job.  After a wide search of contestants to find the best American nanny, Tillman was chosen over 400 others auditioning for the role. 
To view episodes of America's Super Nanny and to find show times and listings check out mylifetime.com.
Staff Writer; Eleanie Campbell
For more writings by this sista feel free to visit; SoulXPosed2U.