G-Unit: The Powerhouse of Hip-Hop.
(ThyBlackMan.com) G-Unit, an acronym for Guerilla Unit, is a hip-hop collective that has left an indelible mark on the music industry. This group, hailing from the South Jamaica neighborhood in Queens, New York, has been a significant influence in the East Coast hip-hop scene.
The group's members, including high-profile rapper 50 Cent, have collectively sold over 30 million albums worldwide, garnering numerous accolades and awards in the process.
From its inception in 2003, G-Unit has seen various lineup changes and affiliations. In this article, we'll delve into the notable rappers who have been part of the G-Unit collective.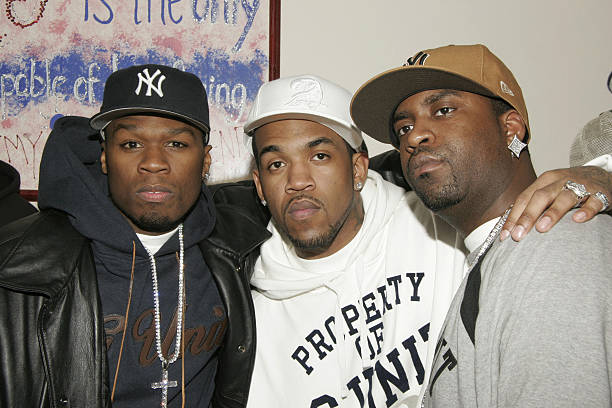 50 Cent: The Mastermind Behind G-Unit
At the heart of G-Unit is the legendary rapper 50 Cent. Not only the founder but also the driving force behind the group, 50 Cent's lyrical prowess and entrepreneurial spirit have shaped G-Unit's success.
Born Curtis James Jackson III, 50 Cent emerged from a challenging upbringing to become one of the world's best-selling rappers. Jackson's breakthrough came in 2000 when he produced "Power of the Dollar" for Columbia Records. Unfortunately, due to a violent incident, the album was never released.
His career took a significant turn in 2002 when he was discovered by Eminem and signed to Shady Records, under Dr. Dre's Aftermath Entertainment and Interscope Records. With the support of Eminem and Dr. Dre, 50 Cent produced his first major-label album, "Get Rich or Die Tryin'", which skyrocketed him to fame.
Many people are curious about who the actual individuals were that 50 Cent initially invited to join G-Unit. Some fans even still have many questions, like are 50 Cent and Pop Smoke related? 50 Cent and Pop Smoke collaborated on several songs. However, Pop Smoke wasn't among the first rappers invited by 50 Cent to establish G-Unit. It's important to note that 50 Cent founded G-Unit by inviting Lloyd Banks and Tony Yayo, his childhood friends. Later, several other rappers emerged as part of the G-Unit family.
Lloyd Banks: The Punchline King
Lloyd Banks, born Christopher Charles Lloyd, is a renowned American rapper hailing from New York. Rising to prominence as a core member of the iconic hip-hop group G-Unit, Banks earned his reputation as a lyrical wordsmith with his intricate wordplay and punchline-driven verses.
His debut album "The Hunger for More" achieved commercial success and solidified his position in the rap scene. With a distinctive voice and a knack for crafting memorable rhymes, Banks remains a respected figure in hip-hop, celebrated for his contributions to G-Unit's legacy and his solo endeavors.
Tony Yayo: The Unmistakable Voice
Tony Yayo, born Marvin Bernard, is a prominent American rapper and one of the foundational members of the iconic hip-hop collective G-Unit. Hailing from Queens, New York, Yayo gained widespread recognition for his distinct voice, energetic delivery, and charismatic presence.
As an integral part of G-Unit alongside 50 Cent and Lloyd Banks, he contributed to the group's meteoric rise during the early 2000s. Yayo's contributions to G-Unit's albums and mixtapes, coupled with his solo endeavors, solidified his reputation as a dynamic rapper in the hip-hop landscape.
Young Buck: The Southern Sensation
Young Buck, born David Darnell Brown in Nashville, Tennessee, is a distinguished rapper and a pivotal member of the iconic hip-hop group G-Unit.
Known for infusing G-Unit with Southern rap influences, Young Buck's raw storytelling and authentic lyrical style resonated with fans across regions.
Rising to prominence with hits like "Shorty Wanna Ride" and "Let Me In," he solidified his position as a vital force in hip-hop, leaving an indelible mark on the genre's landscape.
The Game: A Brief Collaborative Phase
The Game, born Jayceon Terrell Taylor, briefly joined G-Unit, the iconic hip-hop collective founded by 50 Cent, marking a notable chapter in his career.
Joining the group in the early 2000s, The Game's distinct West Coast style and lyrical prowess added a fresh dynamic to G-Unit's sound. His involvement resulted in collaborative tracks that garnered attention within the hip-hop community.
However, the partnership was short-lived, characterized by creative differences and eventual departure. Despite the brevity of his time in G-Unit, The Game's affiliation remains a significant footnote in the group's history.
Kidd Kidd: The Modern Voice of G-Unit
Kidd Kidd, a later addition to the iconic G-Unit collective, brought a fresh contemporary flair to the group's dynamic roster. His distinct style and modern delivery seamlessly blended with the established members, reflecting G-Unit's adaptability and evolution over time.
Kidd Kidd's presence marked a new chapter in the group's journey, contributing to the continued relevance and innovation that G-Unit embodies.
Collaborators and Connections
Beyond the core members, G-Unit's network extended to affiliated rappers, include:
Spider Loc: West Coast Flavor in G-Unit
Spider Loc's affiliation with G-Unit added a West Coast flavor to the group's sound, infusing his unique style into their collaborative repertoire.
Mobb Deep: Influential Collaborators of G-Unit
Mobb Deep's affiliation with G-Unit brought influential collaborators into the mix, enriching the group's music with their signature East Coast sound and lyrical depth.
Ma$e: A Brief Affiliation with G-Unit
Ma$e's temporary association with G-Unit introduced a seasoned voice to the group, briefly diversifying their sonic landscape.
Olivia: A Female Voice in G-Unit
Olivia's presence as an affiliated artist added a unique female perspective to G-Unit's predominantly male lineup, showcasing versatility in the group's musical expression.
Conclusion
From 50 Cent's rise to stardom to the formation of G-Unit, the group has been a force to be reckoned with in the hip-hop industry. Their journey, riddled with challenges and victories, serves as an inspiration to many. Despite the changes in the group's roster over the years, G-Unit's legacy remains intact. They are not just a hip-hop group; they are a testament to the power of perseverance, talent, and unity.
Staff Writer; Gary Brown