President Joe Biden's Answer to Ageist Voters – 'Dark Brandon'.
(ThyBlackMan.com) As I've mentioned in a previous column, when most people think of Joe Biden for president again, they think Geritol.
If that's you, you probably remember the old TV ads on the "Ted Mack Amateur Hour." If so, that's a tribute to your mental acuity at your advanced age. Have a little compassion for your fellow oldsters, please.
In recent polls, both old and young haven't been polite about the No. 1 reason they think Biden shouldn't run again.
It's his age. And no one is whispering it. It's loud and clear.
Last week, Biden had some opportunities to reverse the trend. The state dinner honoring South Korean President Yoon Suk Yeol was made memorable when Yoon broke into a version of "American Pie."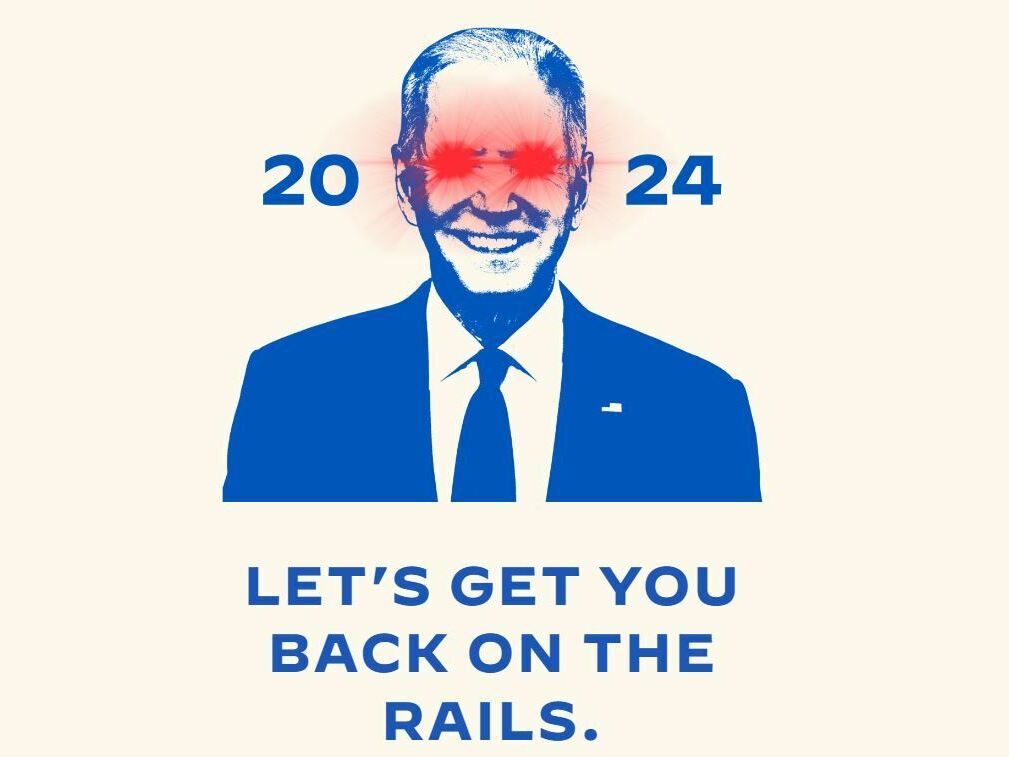 Yes, "Bye-bye, Miss American Pie," recorded by Don McLean in 1971.
Yoon didn't drive the Hyundai to the levee till the levee was dry. But it would have been a perfect cue for Biden to come in strong with a K-Pop boy band medley.
Or maybe just go America all the way with a Jay-Z inspired "I've got 99 problems and age ain't one."
Doing karaoke is a cool trick to come across hipper and younger than you might be.
Unfortunately, Biden did not rise to the occasion.
But by the weekend, Biden came up with maybe something better—that could help defeat all the ageism he's facing.
The occasion was the White House Correspondents' Dinner (WHCD), a huge affair with journalists and celebrity sources, and C-SPAN cameras watching everyone.
But this year, it featured what could be Biden's secret weapon against ageists.
Biden broke out the live action version of "Dark Brandon." It's just Biden looking "cool," as he talked political smack while wearing his dark aviator glasses.
"Dark Brandon?" It's not Joe Biden in dark makeup.
Just dark aviators.
It's a total usurping of a political meme developed in 2021 by the MAGA folks. When Biden appeared at a NASCAR race and a crowd taunted him by name, a respectful broadcaster interviewing Biden at the time said the crowd wasn't using an epithetic phrase to curse Biden.
Oh no, said the broadcaster, it was the crowd shouting, "Let's go, Brandon."
The host totally changed the phrase, censored the "f" word and inserted "go." And then "Biden" became "Brandon." And that's how the code for a MAGA meme developed.
It's been a standard stock MAGA laugh until Biden folks started using a counter-meme that showed Biden behind his aviators, speaking directly to MAGA-types.
"You're lost, Jack," Dark Brandon says.  "Let's get you back on the rails."
The Biden-Harris meme didn't trend until last weekend at the WHCD when the dark glasses went live.
It struck me as the perfect counter to people who see Biden as Mr. Magoo.
Biden as this 'Dark Brandon' semi-action-figure guy can use the character to simply say the truth about anything.
Jan. 6. Trump as rapist. GOP as anti-woman, anti-abortion, anti LGBTQ. You name it.
A clownish character deflects any criticism and enables Biden to be honest and candid without being too political. It's a joke, right? And guaranteed to drive MAGA-types crazy.
It's also made to win over skeptical young voters who see Biden as too old. Too old? Not that cool guy in the "aviators" who is singing their tune.
It's the kind of positive pandering to the youth culture that could work in 2024.
The times we're in necessitate Cool Joe. It's the "Dark Brandon Age."
We already know how critical this next election will be in terms of preserving the victories that have been the hallmark of our democracy for more than half-a-century: Voting rights, civil rights, abortion rights are all being threatened.
It means the 2024 campaign could decide the direction of America for the next four to five decades.
If that happens, this next election could be, as they say, one for the ages.
It shouldn't be one for the ageists.
It won't be if "Dark Brandon" can help it.
Written by Emil Guillermo
Official website; http://www.amok.com/