4 Easy to Start Summer Hobbies.
(ThyBlackMan.com) The summer months are finally upon us. The weather is heating up, and the sun is out. This will probably mean that you want to get outside and enjoy the beautiful summer sun, catch some rays, and get your vitamin D dosage. A lot of the time, we go out with no real intention to do much except lounge around and bask in the heat, which is fine. But maybe it's time you took up a new hobby for the summer! You're never too old or too young to find new interests, so why not start now? You may be surprised at what you're capable of.
Softball
Softball is a great way to get the family together for some fun in the sun. It doesn't require any particular level of skill, as long as you can throw and catch a ball, you can play! It might help to be able to swing a bat too. You can set it up anywhere in an open space, all you need is a few participants, a bat, ball and a few markers to set out the bases and you're set to go.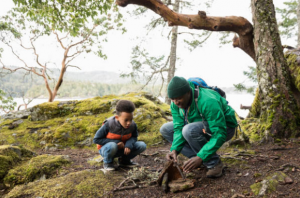 It's a great way to build teamwork and learn to work with other people. There's a lot to be gained from sports. It's not just about playing the game; it's about dealing with others, playing fairly and working with one another. It might just be the perfect way to get the family together and throw some good old competition in the midst. A bit of friendly competition is always beneficial.
If teamwork isn't your thing or you haven't quite got the numbers to create a game, that's fine! You can still play. You just need a net and an automatic pitcher to throw those balls at you. You can get some really great softball pitching machines for a reasonable price. It won't break the bank, and you won't need someone to keep throwing the ball for you. That's perfect for some! You can get outside and work on that swing. Or maybe you can start now and learn from scratch. Whatever your skill level, you can get involved with softball. Everyone starts somewhere.
Cycling
Cycling is another hobby which doesn't require any skill level and is fun for the whole family. All you need is a bike, and to be able to ride a bike, simple! Bike rides can be as easy or as hard as you want it, that's the joy. You can go on a casual, leisurely cruise through some beautiful areas, see the sights and soak up the environment. Or you can blaze through some downhill dirt tracks, work up a sweat and get that adrenaline pumping. The latter would probably be best without the family.
If all you're used to is asphalt roads and concrete buildings then perhaps cycling is the hobby for you. Bike rides can take you to some amazing scenery that you will have never seen before. You'll be surprised by the nature trails that are on offer. They're usually child friendly, and so as long as the kids aren't on stabilizers, they'll be able to take a few of the off-road trails too. It's recommended that you be sure that where you're going is fit for purpose, you don't want to take the family down an advanced route that requires years of experience.
If you haven't got a bike, you don't have to worry about buying the grandest, most expensive one on the market. All you need is a reliable working bike with two wheels. There are some great deals out there for the purchase of multiple bikes if you're looking to get a couple for the family. If then you start taking it more seriously, you can think about upgrading your bike in the near future, but there's not much point at going straight in with the expensive gear if you're going to take it easy.
Camping
Not all hobbies have to involve fitness! Camping is another way of getting out into nature and uniting your loved ones together. Everyone remembers their first camping experience, so it only makes sense to pass that experience on. You don't have to hike up to the tallest mountain and pitch on a steep hill. You can go to a known camping spot, take your time pitching up and enjoy the landscape. Camping isn't just about sleeping in a tent. It's about spending time with others and with nature, enjoying the outdoors and escaping reality.
If you're worried about phones, computers, TVs and gaming consoles consuming your family, as a lot of people do, this is a smart way of entertaining the kids, while escaping the world of technology. You can live life like the good old days before technology took over and enjoy one another's company without those distractions around. You can tell stories, sit around the campfire, go on a bike ride (as above), go fishing, play in the fields, the woods, talk to each other, and just breathe. Let go of your daily worries and take time to unwind. It's a healthy way to spend time together.
With camping, it's easy to go crazy on buying gear. Nowadays, there's a variety of gadgets for the outdoors. If you're a new camper, all you need to accommodate a fun trip are the basics. Having said that, if you want a few home luxuries, there's usually an alternative out there that you can buy. So you don't have to worry about going without.
Photography
There's been a lot of talk about family orientated hobbies though this hobby is for those who prefer their alone time. Photography can get you in touch with your creative side. It doesn't require any level of fitness, but some say it does require a good eye. This doesn't mean you have to have a good eye straight away; you can develop one through the means of photography. You may have a hidden talent. You'll never know until you find out. 
Taking photos can get you into some strange situations that you might not usually get into. You may find yourself looking at landscapes, scenery, plants, flowers, buildings, architecture in a whole new light. You might end up staring at a small flower for an hour trying to get that perfect snap. 
Photography is one of those hobbies that will require a bit of initial financial outlay, but chances are you'll be hooked within the first 5 minutes. You may even further it into a career. It's likely that 99% of photographers started as a hobby and quite doubtful that they went straight into a professional job. All it takes is some time spent, and you might ending turning your passion into a lifelong career. This is when you'll probably end up forking out some more money on expensive cameras, lenses, tripods, etc. Until then, probably best to keep yourself to a budget as it's very easy to spend money on photography equipment.
The aim of a summer hobby is to get you outside into the glorious sunshine, stretch those legs, and do something new. With the winter months, it's acceptable to stay inside more often. And so it's quite common that you'll find yourself repeating that pattern through the summer too, but it's important to remember the benefits of getting out into the sun. With sunshine, brings the opportunity to do things you wouldn't have been able to do in the rain or snow. So get the shades on, get your sun lotion on, and get outside! 
Staff Writer; William Parker