10 Crazy iPhone 11 Leaks you've never Heard About.
(ThyBlackMan.com) The latest iPhone 11 leaks and rumors have raised the expectation level for smartphone lovers. Despite some shocking news about its design and camera system, the iPhone 11 will still be a powerhouse. Note that Apple hasn't mentioned the name iPhone 11 anywhere, and we are using this name for simplicity. Most of the features and design details won't be known until September, but some interesting leaked details are already coming from sources. So, here's what we know so far about the iPhone 11.
The return of Touch ID
Touch ID on the iPhone 11 sounds like Apple is revisiting its own R&D lab and bringing a feature back to life. Some patent drawings show an in-screen fingerprint sensor that uses an acoustic imaging system. If that happens, then Apple is clearly working on a solution similar to the one Samsung added to the Galaxy S10. Acoustic imaging system appears to be more secure and accurate when it comes to biometric authentication. It creates high-resolution images of the size, skin patterns, shape, and scar patterns of users' fingers.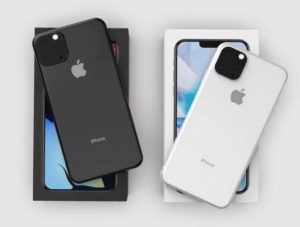 Apple Pencil support
Apple Pencil support for the iPhone 11 seems likely in 2019. Last year, many reports had claimed that Apple would add Apple Pencil support to its new iPhones. But it didn't happen. Interestingly, the tech giant introduced Apple Pencil 2 last year. The second generation Apple Pencil comes in a new design, features better charging option and gesture controls, and it's easy to pair with iPads. Apple may consider some changes for the iPhone 11 Apple Pencil duo after taking note of what other smartphone makers are doing with their stylus.
 Wi-Fi 6
Having Wi-Fi 6 on the Apple iPhone 11 is possible because many early tech adopters have chosen the next generation of Wi-Fi for their mobile devices. This new generation of wireless technology connects you to the internet like how the previous generation of Wi-Fi does. It also helps in connecting a bunch of devices together on a network. Many people think of Wi-Fi 6 as a technology which will improve the connection speed. But apart from the speed, the Wi-Fi 6 on iPhone 11 or any other device will improve connectivity, efficiency and it will strengthen the network when multiple devices are placed in a connected environment.
Powershare feature
Apple is said to be working on a feature which will allow the iPhone 11 to wirelessly charge other Apple devices such as Apple Watch and AirPods. Samsung is currently using this technology in the Galaxy Fold that supports Qi-based devices. If that happens, users will have to put their supported devices on the back of the iPhone 11 and the phone will automatically share power with those devices. It should be noted that the Galaxy Fold uses a dual-cell battery that gives it sufficient power to charge other devices. If Apple follows the same route, we should expect to see a bigger battery in the iPhone 11.
A triple rear camera system
Many rumors now point to a triple rear camera system on the Apple iPhone 11. Unlike other smartphone makers who have introduced triple-camera systems in a vertical design, Apple has some different plans. The company will likely put three cameras in a triangular pattern adding a square camera bump on the back side of the iPhone 11. Unsurprisingly, this square bump will also accommodate an improved, brighter camera flash. Also read our guide on choosing the best camera phones.
Better selfie camera
Apple is also working on improving the Face ID feature and the upgrade means that the Face ID will be capable of working from wider angles. For the front camera system, Apple has decided to go with a 10MP camera. The iPhone 11 was rumored to have a laser-powered camera, but latest reports suggest that the company is keeping this feature reserved for the iPhone 2020 models. The good news is Apple is planning to reduce the notch size once again.
Square camera bump
Apple will release the iPhone 11 series phones in September this year, but the designers of smartphone accessories often don't wait too long. Case manufacturers create molds on the basis of leaked information. Some case designs which recently appeared online show that three flagship phones from the iPhone 11 series will feature a square camera bump. Interestingly, one of these models will only have two cameras on its back, but still, the square camera bump will remain the same.
A13 chip
Apple's A-series chips are already the fastest in the smartphone industry. It's true that the performance of the Snapdragon 855 is very much similar to Apple's A12 chip, but it's very unlikely that Apple will double the CPU core for the iPhone 11 release. The company will rely on the same A12 architecture, however, there will be some tweaks to improve performance. Considering the new camera system, we expect to see better image processing capabilities and a more powerful six-core neural engine.
Strong AI
AI and Machine Learning have become a critical part of the Apple iPhone series. Apple has paid a lot of attention to AI and augmented reality features in the previously launched mobile devices. Apple may announce a massive improvement in the processing power with the iPhone 11. Apple has bought some patents from an AI security camera company called Lighthouse AI. The company, which is now defunct, made artificial intelligence-based 3D sensing security cameras. Latest iPhone 11 leaks suggest that Apple could use bits of the technology in its smartphones.
Small design improvements
Don't expect any major design changes with the iPhone 11, as the phones will be available in 5.8-inch and 6.5-inch display sizes. All the surprises are limited to the phone's back. The phone is said to have a frosted glass coating on the back and it will be available in two new colors green and lavender. Some leaked reports also suggest that the iPhone 11 will have improved stereo speakers.
Of course, nothing is set in stone yet, but if you look at the iPhone X series, most of the iPhone 11 leaks and rumored features look realistic and could possibly arrive in September this year. However, we just have to wait for the official announcement from Apple.
Staff Writer; Corey Shaw
Have any Tech Tips? News? Hit up our Tech Guru at; CoreyS@ThyBlackMan.com