Do Not Break These Five Promises in 2019.
(ThyBlackMan.com) As this year closes and a new year approaches, our tendency will be to make resolutions. I do not challenge any person who makes resolutions – my goal is to help you keep them! Make it personal; promise yourself more than resolving within yourself and hold the person in the mirror accountable. Do not break these five promises to yourself in the New Year.
Promise#1: I Will Think More Positive
Why does being negative have such universal appeal? Why is it that negativity has become so fashionable in our society? I'll tell you why. It's because negative is the new easy, it's the new normal – not new in the sense that it debut in our culture is recent – but new as it relates to people sensing its temporal and elementary value. You don't have to pay to be negative; doesn't cost you a penny. Just wake up and have at it! Conversely, to think positive is an act of willpower and, as we know, willpower comes with a price!
Affirmation:
I promise to give positivity a chance in every area of my life – from my money to my relationships to my job.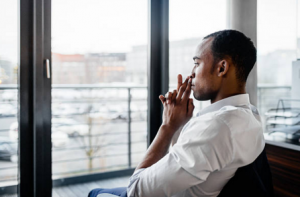 Promise#2: I Will Forgive and Forget
How many times have you heard a person say, "Forgive but don't forget." What a toxic way to live! 'Forgive but don't forget' is the installment plan for mental and emotional suicide; it's nursing a wound that will never heal. Its end result is that the carrier of this mental parasite will go through life half-wounded and mortally damaged.
Affirmation:
I will release all pain, sleights and misunderstandings with and from people. I refuse to mortgage my emotional future over triviality.
Promise#3: I Will Lose More Arguments than I Win
On the flip side of forgive but don't forget is the even more insidious desire to win argument for the sake of winning an argument – whether it's with a family member, a member of our social network or a complete stranger. The obsessive need to win an argument comes from the need to be right, to be seen and heard and is a result of our culture's hyper-emphasis on being tough.
Affirmation:
Peace of mind is what matters most to me and from this day on I will seek it relentlessly.
Promise#4: I Will Seek Wellness
Rather than resolve to go the gym – which experience from the last New Year has taught you the folly – promise to pursue personal wellness. Promise yourself that you will do something each day, whether it's walking the stairs, engaging in deep breathing, reading positive. This promise is based on the fact that your physical, mental and spiritual well-being deserves maximum attention and effort.
Affirmation:
I will seek what is best for my body, mind and spirit each day.
Promise#5:
I Will Not Judge Myself More than I Love Myself
The fact is we are our own worst critic. So many dreams have wilted and died under the weight of severe self-doubt and criticism. Some people are so hard on themselves they loathe to look in the mirror or to try something new because they fear the same results. Loving yourself is the ultimate investment! It releases your anxieties about future mistakes and keeps you aligned with your greater purpose in life.
Affirmation:
I will say to myself "I love you" at least twenty-one times each day.
Promise yourself!
Staff Writer; W. Eric Croomes
This talented brother is a holistic lifestyle exercise expert and founder and executive coach of Infinite Strategies LLC, a multi-level coaching firm that develops and executes strategies for fitness training, youth achievement and lifestyle management. Eric is an author, fitness professional, holistic life coach and motivational speaker.
In October 2015, Eric released Life's A Gym: Seven Fitness Principles to Get the Best of Both, which shows readers how to use exercise to attract a feeling of wellness, success and freedom (Infinite Strategies Coaching LLC, 2015) – http://www.infinitestrategiescoaching.com.