Bill Cosby Found Guilty, Guilty, Guilty.
(ThyBlackMan.com) Bill Cosby has been found guilty of sexual assault from a 2004 incident against Andrea Constand, a now 45 year old Canadian born female who says Cosby drugged then sexually assaulted/molested her. But before you say it's just another conspiracy to bring down an African American role model, you should hear the evidence against Bill Cosby. Before you say he is innocent (because you like him) or guilty (because you don't), you should hear the evidence against him. I have to say I knew Cosby would be found guilty.
So many Cosby show stars held Bill Cosby in high regard, even though he constantly cheated on his wife, set a bad example and admitted he acquired drugs to give to women he wanted to have sex with. We need to open our eyes because Cosby is not Dr. Huxtable.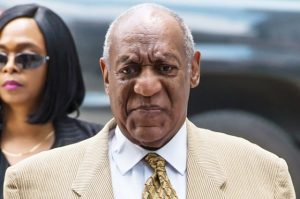 Whatever you or I may think or believe, Cosby faces 10 years in prison for each conviction. That could mean 30 years in prison or three 10 year sentences all running concurrently (at the same time). Although his attorneys could launch an appeal, judges tend to support the decisions of other judges and juries unless new "smoking gun" evidence arises or critical procedures or laws were violated by the prosecution during the trial. Unfortunately while possible, that is not likely in this case so Cosby may be on his way to jail. Could the judge make the sentence probationary? Yes, but it's more likely the court may try to make an example out of Cosby – especially in the face of the MeToo movement, the fact that over 4 dozen women accused Cosby and the fact that Cosby's own deposition was used against him.
Cosby's 1000 page deposition where he talked too much. Where was his lawyer to say "shut up"
Years ago in a deposition Cosby stated that he acquired drugs for the purpose of giving them to women he wanted to be intimate with. That deposition came back to haunt him. But there are even more strange elements about Cosby that you may not know. As a former detective trained in criminal profiling, I watched an old interview where Cosby spoke about Phylicia Rashad being on the Cosby show while she was pregnant. The interview will shock you and give many of you quite a different impression of Cosby.
Just as it is with Donald Trump, if that many women accuse you of sexual assault, you did something. If you admit you acquired drugs to give to women you wanted to be intimate with, you did something. If you readily and admittedly cheated on your wife again and again and again and again, you did something. Are some of the women lying? Probably. Are all of them lying? Probably not. But the MO (modus operandi or method of behavior) is eerily the same over and over again by Cosby.
Just one example of Cosby's creepy behavior.
The irony is that Bill Cosby's life has been the complete opposite of the Cosby Show. A daughter who ended up on drugs. A son who was killed mysteriously. What appeared to be a successful career. Then all of a sudden his character and image were destroyed and now he is a convicted felon. Are there other forces at work who found all of these women claiming Cosby assaulted them? Likely yes. Are there people in power who wanted Cosby destroyed unrelated to the issue of any of the women's claims? Likely yes again. Bill who did you tick off that they would want to dig up your past and use it to destroy you ? Wow. The sad fact Bill is, just like with O.J., you were trapped by what you said and what you did.
As for Cosby's opinion of poor African Americans, I cannot help but remember how he judged and put down so many boys and girls, though he made a lot of money and fame by perpetuating their stereotypes through the Fat Albert cartoons. And all the while he knew he had been unfaithful to his wife numerous times, that he was not really a role model and that he gave women drugs who he wanted to have sex with. I cannot help but say the word "predator" comes to mind.
The million dollar question is where was Bill Cosby's attorney dream team? Cosby was found guilty on all three charges so of what use were his lawyers?
At 80 years old, if Cosby goes to jail for 10 years, he will likely die in prison as a convicted felon. His legacy is demolished. What will this do to the old Cosby Show episodes? How will it impact his wife who stood by him? She certainly did not deserve this. What about all those Cosby show stars who spoke out in his favor? What will they say now? What happened to the powerful Monique Presley who was his attorney? And why couldn't his attorneys even get one charge dropped or reduced?
More Details: https://www.yahoo.com/news/latest-cosby-courthouse-jury-debates-fate-125520724.html
While I do believe Cosby is guilty, a part of me feels sorry for him. Bill Cosby has sown the wrong seeds in the wrong soil and they have come up as weeds to bite him. Yet knowing the legal system as I do, I cannot help but feel a lack of balance and misplaced "justice" has occurred. Am I defending Cosby? No. But his life, the shame on his wife and the devastation of his entire family is a tragedy.
One thing we all can learn from this is that we all better watch what we say and even more watch what we do. Treachery and debauchery will catch up with us at the worse possible times. African American men especially, be faithful. Be a real example and role model for your children, your wives and your community. Good luck Bill. You will need it.
Staff Writer; Trevo Craw