Points Barack Obama Made about Facebook and Google at MIT's Sloan conference.
(ThyBlackMan.com) Barack Obama is unhappy with the policies of Facebook and Google and wants these companies to have an open discussion over the issues of privacy. During his speech at MIT's Sloan Sports Conference, the former President made several points about the style of business these companies are doing. He also made comments on the rising concerns about users' data these companies have accumulated over the years.
The former President Barack Obama spoke to the audience of hundreds of people for an hour. The event was a sports analytics conference, but organizers wanted his remarks to be off-the-record. Attendees were not allowed to take photographs, record his speech, tweet or report on the event.
The biggest surprise is that the event organizers didn't want virtual attendees to hear what Obama said meaning that the statements Obama made were not supposed to be heard by the public. It's 2018 and everybody knows that keeping something off-the-record is impossible when you're inviting hundreds of people. Here's what Obama said.
There's a need for conversation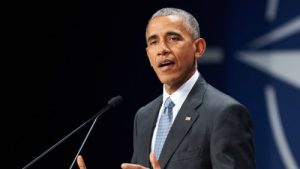 Obama said he thinks that the large platforms like Facebook, Google, and Twitter must talk about their business model and algorithms. There's an urgent need to have a conversation about the business tactics being used by these companies as "they are shaping our culture in powerful ways." It's time to know more about these companies and recognize how good they are for public and as a business, he added.
Construction of alternate realities
Tech companies are shaping our future in powerful ways but according to Obama, much of that shaping is not good. "We have entirely different realities," said Obama, making it very clear that most of the times people share their political opinions which are not even based on facts.
He said that users are not only using these platforms to create alternate realities, but they have been creating entirely different opinions and facts. Obama said that the risk is not only from Russian bots and fake news but the country's own media houses are describing the same thing in different ways and in some cases, the publishers don't even talk about the same thing.
There's a threat to democracy
When people are not sure about which source to look at for reliable, accurate information, it is so difficult for the democracy to function properly in the long run. Obama noted that in countries like China, government controls media and airs information from its own viewpoint. There's no need for such environment in the U.S. but "there are basic rules of the road in place," he said.
Obama didn't say anything about the need of new laws for tech companies, but he said that the current state of social media platforms is not only allowing users to construct different realities, it is also damaging the credibility of media. He didn't talk about any regulations for these companies, but his comments came at the time when people are criticizing Google and Facebook for their business tactics. Surprisingly, Obama's speech script was not released by organizers and for a few days, his speech was kept secret. According to reports covering the event, the organizers didn't allow press coverage of Obama's speech at Sloan Sports conference. The organizers didn't comment on why the coverage of Obama's presence was restricted, but later the full audio along with a written script surfaced online.
During the event, Obama also spoke about climate change, politics, and basketball, but most important of all is his remarks on these tech companies. Web trackers, search engine algorithms, advertisement policies are some of the key issues people have always raised concern about. Whether it's pre-election or post-election time, Google and Facebook have made a huge impact on the way people think and make their opinions. Their algorithms are some of the biggest secrets and nobody except these companies know how much they know about people and what is their model of business and what would be the impact on the public and democracy in the long run.
Staff Writer; Corey Shaw
Have any Tech Tips? News? Hit up our Tech Guru at; CoreyS@ThyBlackMan.com.