Four Ways Meal Prepping is Life.
(ThyBlackMan.com) Not too long ago, I started meal prepping. I heard about it and thought about it, but I never dived in and did it. Finally, at the start of the year I was determined to get myself together and so, I gave it a try. I wish I had started meal prepping sooner.
It really is a game changer. It takes the confusion out of what to eat and for those who are watching their diet and trying to lose weight, it is the key to everything from portion control to nutrition eating. I promise you. I have found my life to be so much easier since I've been doing it, and not just because it saves me time and money. It has totally changed the way I look at food and how I even spend my time.
If you have been up in the air about whether or not you should give it a whirl, here are some things I've found to be true since I started meal prepping every Sunday night.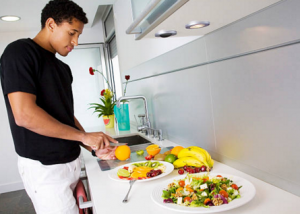 Saves Time
This is a given. I spend about an hour and half on Sundays getting my lunch and snacks ready for the week. I only do these two because they are the meals that I usually lose my way with the most. When I'm at work, I just go for my salmon, quinoa and broccoli; already portioned. Already made. I no longer have to rush in the mornings, trying to fix something for lunch.
Helps with Weight Loss
One of the keys to losing weight is watching what you eat. Experts say that you can do all the working out in the world but if you don't eat right, it is all just for naught. Planning your meals and prepping them in advance allows you to see what you are eating and control your portions. That's another important aspect of shedding the pounds.
Encourages Better Planning Skills
Some people aren't good at time management and planning. When you meal prep, you know that you have to go to the store to buy the food, but first, you have to make a list. Then you have to prepare the food and package it. All of this causes you to look at your time and make the proper arrangements, which means often you have to sit down, think, write, and do. It's just another way of helping you "adult" better.
Reduces Stress
Let's face it, when you have a family and things get hectic, the stress of feeding them can be overwhelming. Luckily for me, I only have myself to worry about (so it takes me a little less time) but for those that have a whole family, meal prepping can reduce the stress of feeding the people you love. No more guessing, or not knowing. You (or your child) can get home, pull dinner out of the fridge, pop it in the oven or on the stove and keep it moving.
I am so happy I incorporated this important process into my life. These are just a few of the ways it has made things easier and more manageable for me. Consider taking the time to see how meal prepping can change your life as well.
Staff Writer; Rasheda Abdullah