10 Ways Your Car Can Help Your Relationship.
(ThyBlackMan.com) Through the tension, unspoken feelings, and presumptions of another person's emotions, relationships can get pretty tricky. Everyone goes through the ebbs and flows of being with someone.
Relationship problems are hard.
But, there's ways to help. You came to this blog to read about driving, but now you're getting a lesson in being a good romantic partner.
Most people don't have relationship counseling in their budget. But most people do have a car. So, buckle up, because here's 10 ways how your car can fix your dead-end relationship.
Take Romantic Road Trips
Relationships get stale when you don't get out of the house. So, block off a weekend getaway or a day trip and hit the road with your romantic partner. Maybe visit one of many amazing Florida beaches in the winter. It's an out-of-the-norm act that will sweep them off their feet and into your car.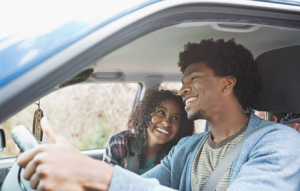 Going on a road trip is a superb bonding experience. You'll get to see the sights and share that moment with someone who you care about. Renting a car from https://www.limofind.com/tx/lubbock-party-bus-rental/ can also be a great idea for a more romantic road trip!
Be a Safe Driver
You can tell a lot about a person by how safe they are while driving. Being reckless will show your partner that you don't value the safety and well-being of others on the road. Beat their presumptions and be a safe driver.
Nothing screams "I love you!" more than staying in your lane and driving under the speed limit.
Use Your Car as a Relationship Therapist
Cars are great listeners. They don't talk back to you. When you're feeling upset about your relationship, vent it out with your car. Talking in your car during a work commute or when you're heading to the grocery will give you time to self-reflect.
Let Your Partner Drive Your Car
Trusting your partner is key to any relationship. One incredible gesture to show that you're ready to take things to a new level is letting your partner drive your car. Show your lover that you feel confident and secure in their driving capability, so they can take your car wherever they want.
To the grocery store? Post Office? Commute to work? Doesn't matter. Give them the keys and let them know that you trust their driving.
Keep a Clean Car
Clean your car. Pick up the straw wrappers and french fries that get between seats. Throw out those empty water bottles that have been in the back seat for a month. Oh, and please don't use your car as a closet.
When you keep a clean car, your partner knows that you're a responsible, mature adult who can take action. Someone who has control in their life wouldn't have a dirty car, so why should you? Take a few moments and clean out the interior of your vehicle and woo your partner with your cleanliness.
A Good Road Communicator Makes a Good Relationship Communicator
What's that? You respect and appreciate your romantic lover? What a great thing to tell them! Communication is vital to keeping and maintaining solid relationships. But, there's other ways you can communicate to your partner.
By being a good communicator on the road, you can show your partner that you can talk the talk and drive the drive.
Drive in Movie Night
Here's a fun date night idea. Nobody takes dates to a drive-in movie night anymore. So, you can impress your partner with some movie magic by taking them to a drive-in theater.
Grab the popcorn and cuddle up while watching the big screen from the inside of your clean car.
Pass Your Florida Driving Test
One sure fire way to improve your relationship is to pass your Florida Driving Test. Your partner will think you're not only responsible, but you're hyper intelligent when you score a perfect on your test. You can thank us later.
Reenact the Hit Film Driving Miss Daisy with Your Partner Sitting in the Back Seat
The idea is simple. One person plays Hoke and the other plays Miss Daisy. You choose a destination, and nobody can break characters until you arrive.
Show them your soothing Morgan Freeman voice or charming Jessica Tandy impression by role playing as the characters from the hit film Driving Miss Daisy.
Don't Get Angry at Other Drivers
When driving, don't lose your cool. Sometimes drivers are reckless and sometimes you get cut off in traffic. Whatever the case, don't get a temper and remain calm.
Everyone loves someone who can remain calm under pressure.
When you apply these tips in your romantic endeavor, you'll notice your relationship driving to new places.
Staff Writer; Joe Foster