President Donald Trump, Sheriff Joe Arpaio, and Judge Moore ; Good Men Leading This Country.
(ThyBlackMan.com) Under President Donald Trump, justice is right-side up again.
We saw this clearly with the president's statements on Charlottesville, condemning the hate and violence "on many sides," his calling-out of the alt-left, and the media's excusing and ignoring of leftist violence. The media still think their illusion of "racism" has power over a man of truth like Donald Trump, so they're still lying and claiming he did not condemn so-called "white supremacists," and they're still covering for hate-filled Antifa and Black Lives Matter. But their time is up, because we have a real man in charge.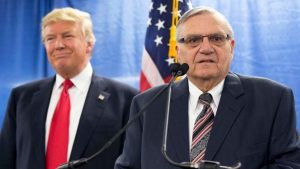 We see the return of justice all the more with the president's pardon of Sheriff Joe Arpaio of Maricopa County, Arizona, a good man who's been under attack by un-American leftist liars from President Obama's administration to the mainstream media to the ACLU. Those in power the previous eight years (and more) believe in fake things like "racism" and don't care about the law, nor about what's right. Thankfully, we don't have to see a man who's lived a life of service to the American people destroyed by wicked liberals.
Sheriff Joe Arpaio tweeted a "thank you" to President Donald Trump "for seeing my conviction for what it is: a political witch hunt by holdovers in the Obama justice department!" Everyone should note that RINO Sen. John McCain, who hates President Trump and hates good, decried the pardon of Sheriff Joe. Evil is being revealed as good is being lifted up.
Speaking of justice, I am truly heartened to see the rise of my friend and hero, Judge Roy Moore, in his race for U.S. Senate for my hometown state of Alabama. Over the years, Judge Moore has faced attack after attack by godless liberals for his stance defending the Ten Commandments monument, his rejection of the unconstitutional so-called "same-sex marriage" decision and so much else. I remember how he destroyed CNN's Chris Cuomo's phony arguments attempting to force "same-sex marriage" into Alabama. I met with Judge Roy Moore for an hour, and he had a wealth of knowledge on the law and Constitution, but he explained things so simply that even a simple man like me could understand. Because Roy Moore is a man of character and consistency, the good people of the South love and support him, and so do I.
Compare these solid men: President Donald Trump, Sheriff Joe Arpaio, Judge Moore and many others who've stood up for good, including Sheriff David Clarke – contrast them with the dirty, trashy people who the children of the lie have lifted up: Hillary Clinton, Nancy Pelosi, Maxine Waters and even John McCain. The latter don't care about good, or what's right. They have only hatred in their hearts and false accusations to malign good men and deceive people who lack wisdom and character.
Maxine Waters was honored by the shallow, morally bankrupt BET's "Black Girls Rock" awards, where they love their "blackness" more than they love God (even though most blacks pretend to be Christians), and they hate real men like President Trump more than God hates sin. When "Auntie Maxine" received her award, she gave an empty promise to "impeach" the president and called herself a "strong black woman." She's not going to impeach the president, and she's not a "strong" person at all – she's a shameless liberal woman who loves abortion and hates and exploits blind black people. But the blacks cheered, applauded and ate up her lies. It is so unfortunate.
Similarly, former Speaker Pelosi, former Secretary Clinton and former POW John McCain are struggling to remain relevant in these times of renewal for America. The media, who love lies, continue to give these washed-up politicians a platform, as together they grow more deluded. If they cared about their souls and about America, they would repent and forgive those they hate, stop pushing evil, and stop trying to fight the president in his mission of making America great again. They don't want the country to be great again. They hate good so much that they are willing to destroy themselves and others to stop good from winning.
I am loving these times. As good comes out in the open, so does evil. I don't mind evil being evil, because that is evil's job. In this world, you will have trials. But it is so refreshing to see good men return the country to good, as the president is doing, as Joe Arpaio has done, and as I trust Judge Moore will continue to do, if and when he wins his Senate seat.
I truly hope the younger generation watches and learns from these men's example. I am happy to see young white men and others standing up again, but they must do it in the right way – without anger. Only by not hating your enemy will you see clearly how to defeat evil. As always, I urge you to pray, to forgive your own mothers and fathers who let you down in one way or another, and to aim for perfection as you fight for your souls and for the country.
Written by Jesse Lee Peterson
Official website; http://twitter.com/JLPtalk