A Clear Vision Students Need to Volunteer in Their Communities.
(ThyBlackMan.com) Volunteering their weekends with Vision Keepers and New Town Success Zone are students from Duval County Public Schools and Edward Waters College working to distribute food to the community. Their works and those of other volunteers have touched the lives of seniors, children, the disabled and others facing life's challenges.
The need for compassion, caring, empathy and patience is sometimes lost, but during times of mental and emotional stress these feelings are important to share with those challenged and in need of hope.
The work is directed with a vision to improve the community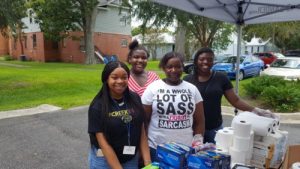 from within, to encourage and empower the citizens of the community to build a better community by allowing and encouraging youth, teens and young adults to contribute to the stability and growth of theirs and surrounding communities.
The students Sha'ni Lewis (10th grade), Alnesha Brown (EWC), Tameya Lanier (EWC) and Dyani Jones (5th grade). Successful students each that embraced the opportunity to give back to their communities, even though Ms. Brown and Ms. Lanier are from South Florida they see Jacksonville as their homes and are excited to contribute to making the area around Edward Waters College better for everyone.
Dyani stated she enjoys helping people and has been in situations of homelessness before when she was younger. She appreciated those that helped her and her family and wanted to give back to help others.
She saw the strength and even the vulnerability of her mother as she strived to help build a brighter future for her and her sister Sha'ni.
Her sister Sha'ni agreed and stated it was hard growing up and not having enough food around or living in different places. She never wants to go through that again and wants to help families stay feed and happy.
Students with DCPS, EWC and other higher educational institutions are invited and encouraged to volunteer their time and skills to work in the community, to come by Vision Keepers and New Town  Success Zone to give back to their community.
More information can be gained by calling or emailing.
George Maxie, Executive Director
New Town Success Zone
(904) 470 8262
E-mail: george.maxey@ewc.edu
Wellness Programs
WellnessRxJax@gmail.com
Staff Writer; William D. Jackson Sha'ni Lewis, Alnesha Brown, Tameya Lanier and Dyani Jones
Find out more about this talented writer over at; OCS For Education.