GOP HealthCare, 7 1/2 Years And Failed To Repeal Obamacare.
(ThyBlackMan.com) After the U.S. Senate vote to repeal 'Obamacare' failed again, Dr. E. Faye Williams said, "The stakes were high, and when it was time to do the right thing, Senators John McCain (AZ), Susan Collins (ME) and Lisa Murkowski (AK) rose to the challenge, along with 48 of their Democratic colleagues, and voted to defeat efforts to destroy the Affordable Care Act—known as 'Obamacare.'
There is such a thing as justice, and it finally landed on the side of the people who worked so hard for so long to save healthcare for the least of these. Eight years after Senator Mitch McConnell vowed to make President Barack Obama fail as President, instead, he was just handed a stinging defeat to his many attempts to make 'Obamacare' fail, and therefore Mr. Obama's legacy.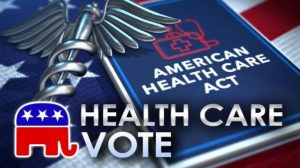 In his moment of defeat, Mr. McConnell sulked as he read from his already prepared notes of concession. The people who stayed on this issue of saving healthcare—those who resisted and persisted—celebrated their power.  Senator Charles Schumer spoke graciously, and made us proud to be Democrats again. It was one of his finest hours as he called for bipartisanship when he said, 'We're not celebrating. We're relieved.'
He spoke for many of us who saw our nation headed in the wrong direction. It is my prayer that the Republicans are ready to move forward and work to improve healthcare for those who need it most.  Democrats firmly expressed their desire to make the necessary improvements in 'Obamacare' instead of sabotaging what President Obama was able to accomplish.
Just as I said last November after the stinging defeat Democrats suffered in the election, 'God has got this,' and he gave the 'Resistance Movement' a clear indication that 'People Power' works! It's time for more of us to Resist and Persist until total victory for the people is accomplished in every branch of our government. Now it's time to get those insurance rates down so that it's affordable for all."
Written By Dr. E. Faye Williams
Official website; http://www.efayewilliams.com/