ZTE Axon 7 Long-Term Review: Critics Still Recommend Buying This Phone.
(ThyBlackMan.com) The ZTE Axon 7 is almost a year old now. A few months ago, it got a baby brother Axon 7 Mini. Both the devices are powered by Android Nougat 7.1.1 and are known as two of the most inexpensive phones ever launched. Even today, the Axon 7 is a popular choice for those who love buying value for money smartphones. In less than US$400, you get same specs as the Samsung Galaxy S7. ZTE has put a lot of effort and time into this phone and as a result, the company has made the best phone which is capable of beating HTC 10 and Galaxy S7 on many fronts.
Low price is not the only standpoint feature of this phone. There are many inexpensive phones available on store shelves, but what matters the most is performance, which comes from the hardware and features. We have already mentioned that the device runs on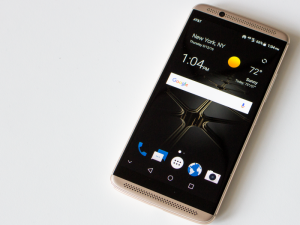 the latest version of Google's mobile operating system, Nougat. The ZTE Axon 7 is also recommended for having amazing dual front-facing stereo speakers.
The phone is powered by Quad-Core Qualcomm Snapdragon 820 Processor which is super speedy. The device sports an Adreno 530 GPU making it perform just as fast as the flagship products of LG, Google, and Samsung. The improvements are a testament to how far ZTE has come to deliver a phone which is highly capable, and ships at a reasonable price.
In a smartphone, 4GB RAM is sufficient even for the power users and Axon 7 gives you that much. The device packs 64GB internal space with a microSD card slot which accepts up to 256GB additional storage. One thing you need to remember is that the dual sim phone can either accommodate your second sim or a microSD card. Meaning that you will have to give up a sim card slot if your phone can't survive with 64GB ROM.
The ZTE Axon 7 comes with a non-removable battery (3250mAh). The battery lasts long and you can compare it to that of the S7. The Axon 7 doesn't feature wireless charging but it supports Quick Charge 3.0 which is preferred by more people.
Design and display are two areas where the Axon 7 exceeds expectations. If you look at the phones available in the same price range, you will find that their display quality has been compromised either in terms of resolution or the build quality. The Axon 7 offers Quad HD 5.5-inch AMOLED display, 1440 x 2560 pixels with a 538 ppi pixel density. The phone is worthy of competing with many high-end devices.
The ZTE Axon 7's dual-front facing stereo speakers support Dolby Atoms surround sound technology. It means that the listening experience on the device is matchless and you can't easily find the technology on many smartphones. When played, the sound is loud and clear and free from any distortion, even if you raise the volume. The phone is Daydream-ready and is one of the cheapest Daydream compatible phones to enjoy high-quality virtual reality experience. The phone doesn't fall into the "just another smartphone" category in terms of its design. It is distinctively ahead and stands out.
If you are thinking of buying the ZTE Axon 7, buying it is undoubtedly a smart choice. You can, in fact, find deals and offers where you can get the phone at the price as low as US$330. The device packs the best audio, a zippy processor, excellent display, a 20-megapixel rear-facing camera and latest software. What can go against the phone is that it doesn't feature a dual camera setup, its camera performance is not up to the mark in low light, it comes with a non-removable battery and lacks water resistance.
Staff Writer; Corey Shaw
Have any Tech Tips? News? Hit up our Tech Guru at; CoreyS@ThyBlackMan.com