The Type-A Mind-Set of Empowered Fathers.
(ThyBlackMan.com) Welcome to the empowerment mind-set, the requisite success tool for today's father! Fatherhood demands our best effort. It requires of us complete commitment and resilience. The Type-A personality is competitive, outgoing and ambitious. We need Type-A fathers – fathers who will not buckle under fire, who will not be satisfied with mediocrity and who are willing to learn from their mistakes. This is the empowered father.
To empower is to give authority. To have authority is to be in the distinct possession of the direction, movement and ultimate arrival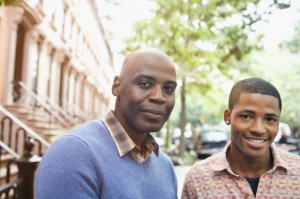 to one's goal. Take a summary look at the difference between a father who's empowered and one who is not. One father has authority over their life, the other does not. What are the ingredients to such a mind-set? Here are the Five A's of the empowered father's mind-set.
Awareness Mind-Set
Awareness is presence; it's sensing something in your life, especially when it's amiss. Obstacles begin as babies; challenges grow from the cradle.
Typically, unawareness strikes three areas of our live: our private life, our social environment and the people whom we allow into our intimate space.
Type-A fathers constantly seek to elevate awareness of all three dimensions of life. We give attention to our personal growth and development; we live socially aware and we 'vet' the people who we allow into our personal domain.
Attitude Mind-Set
How do you think and feel about yourself? Your future? How do you tend to respond to the ten percent BS that life shovels on a daily basis? That's your attitude.
Type-A fathers understand that we control the ninety percent to life's ten percent – we shape our response! Type-A fathers never feel defeated – our optimism is unbounded. To us, obstacles are stepping stones to greater achievement.
The answer: your attitude toward others. More specifically, your attitude toward the attitude of others. When we learn to control our attitude, we go a long way toward accepting the attitude of others.
Affirmation Mind-Set
Affirmation is the most powerful empowerment tool ever discovered; it is the imprimatur of the Divine. Conversely, the lack of affirmation is the primary reason for self-destructive behavior. Affirmation means that your sense of truth and purpose has been validated. When you use your presence and your power in the service of others, you are affirmed! The Type-A father walks in this sense of purpose and destiny.
Advancement Mind-Set
Advancement is moving forward. We have three choices in live: we can move forward. we can move backward or we can stay where we are. We've been designed to move forward, propelled by the Divine to achieve all that we can in life. This fact is at once understood and accepted by the Type-A father. As such, he's always moving forward.
Action Mind-Set
Most people say they want to make more money, they want to be rich, they want to live a better life – but few people take action! The Type-A father who takes action asks, what's my next move? He realizes that when he asks that question, however rhetorically, he moves things into motion; things begin to happen. But the Type-A father does not stop there; after asking the question, he at once begins to create the context that will supply the answer – and the subsequent blessings of taking action!
Type-A fathers are unstoppable!
Staff Writer; W. Eric Croomes
This talented brother is a holistic lifestyle exercise expert and founder and executive coach of Infinite Strategies LLC, a multi-level coaching firm that develops and executes strategies for fitness training, youth achievement and lifestyle management. Eric is an author, fitness professional, holistic life coach and motivational speaker.
In October 2015, Eric released Life's A Gym: Seven Fitness Principles to Get the Best of Both, which shows readers how to use exercise to attract a feeling of wellness, success and freedom (Infinite Strategies Coaching LLC, 2015) – http://www.infinitestrategiescoaching.com.