Charles Barkley & The Propped Up American Negropean Train.
(ThyBlackMan.com) I am not a real big fan of Charles Barkley on a very personal level because he has said very negative things about us that the racist Caucasoid man would gladly approve of. And on top of that he has shown his ultimate disdain for black women calling them "ugly" and praising a Becky that he is currently married to calling her "beautiful".
He is also the same negropean who says all cops are "good" when in fact it's not true. Back in 1997, when he was playing for The Houston Rockets at the time, he was involved in an high profile incident where he threw a guy through the window and he later told the top standing several yards away from him "I'll kick a cop's ass too". The ONLY reason why he survived that incident unscathed was because his massa protected and insinuated him from the personal experiences that regular black men like myself go through wi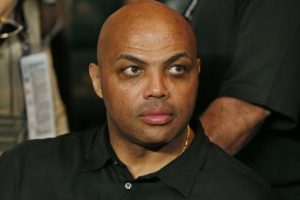 th the police on a continuously daily basis. I will say this on the record had Barkley not been a millionaire basketball player, his life would've been a whole lot different.
But one thing that I will give Barkley his props on is the fact that he recently donated to two HBCUs (one in Georgia called Clark Atlanta) & the other one here in my homestate of Alabama in Alabama A&M. Like myself, Barkley is also from the state of Alabama and he is considered one of the greatest athletes to have ever come from the state of Alabama.
When you see certain negropeans like Charles Barkley, Steve Harvey, Stacey Dash, David Clarke, and other negropeans in the mainstream media just saying ignorant and destructive things about our community, just know that these people have the racist Caucasoid man standing behind them saying "These are our handpicked Negroes that will tell us what they want us to hear. The things these people I mentioned don't come from our community, that is racist mainstream Amerika's message directly to us.
One of the biggest manifestations of structural racism is that the mainstream media picks their propped up negropeans and mentally controls them to the point of saying the most ignorant and destructive stuff about our people and our community.
Example: Just recently Barkley said some very disrespectful things about Diane Butler at a Baltimore town hall meeting, the mother of Tyrone West, who was killed by police three years ago when he told Butler "I'm sorry for your loss," Barkley said. "As far as you not liking me, it really doesn't bother me. I'm used to it. I'm like the homecoming queen. All the ugly girls hate you. That's part of my life. I never take anything personally."
And then the Baltimore town hall crowd grew more angry and very hostile towards Barkley and then they insulted his complete lack of knowledge towards policing in inner city communities when they told him "What does your condolence mean to her?" said one audience member, gesturing toward Butler. "How simple and arrogant are you? There are so many black men that care about our community that for us to dwell on one man that just won't get it is a waste of everybody's time."
When I look at a guy like a Charles Barkley, I see a guy who is severely uneducated on social issues related to us in this country as well as his lack of understanding the social engineering tactics that have and are still taking place in our community.
One of the rules of psychological warfare is when you want to control a group of people, you control certain messages that come out so that those group of people won't be fully awakened by what has been done to them and we're the biggest victims of psychological warfare in America
The Conclusion – These propped up negropeans like Charles Barkley aren't spokespeople for our community because he was picked by the racist caucasoid man, not us. Remember that.
Staff Writer; Joe Davis
FB Page; http://www.facebook.com/joe.davis.165470