How To Make Money From Writing.
(ThyBlackMan.com) Writing ideas using the correct wording and phrasing is a skill that is mastered with time and practice. Not everyone has the ability of clearly grasping these ideas and effectively putting them into action. All the elements required for a great writing work might be overwhelming to some. But with time and dedication, you can become the best writer you can be.
New content is being generated every minute. Companies know that when it comes to promoting a brand or product, content is key. Some of these companies will hire writers to help them clearly deliver a message to attract customers and to engage present ones. In other words, there is plenty of work for a writer out there. It is all a matter of enhancing your writing skills and knowing how to promote yourself as a writer.
Develop your personal style
This is where you start getting serious about writing. If you think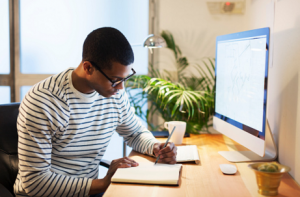 about it, we all are writers. The very first sentence you write down makes you one! But then, you want to be a better writer. Besides this, you want to find out what your writing style is or will be. The best way to do this is to start a blog. In fact, all writers must have a blog. Not only will you develop your personal style but also you will be able to start building your audience.
From here you must pay attention to your voice and your tone. This where your style will blossom from. Your voice is who you are representing: a tout, a teacher, instructor, savvy insider, etc. Your tone will be your choice of words, grammar, spelling, and sentence structure. Together, these two will give you your unique style.
Create a professional Network
It is a common agreement that if you want to create the best job opportunities for yourself, you must create a professional network. You need people who know better in order to have the best job opportunities available for you. In this case, build a network with people who are presently monetizing their writing. But do not limit yourself to that. Include business men and women, social media experts, and other powerful networkers. The more you expand, the greater that chances of learning and growing.
You can start building your professional network by going to social media. Go to Twitter and look for accounts that deal with writing as a profession. On Facebook, like pages that deal with this topic. Once you have done this, become more social. You can interact with these people in order to get the best out of them. Also, reaching out there with your voice will help you grow your circle and build an ever more powerful professional network.
Where is the money?
When you already have built an audience and have a strong network, you should be able to start seeing some income. As a beginner, it is advisable that you are aware of the fact that your work will not be overpriced, or even priced fairly. But don't worry, with your good and hard work, with time, you will establish yourself as an authority in what you do and command more money for your work.
The following are some places where you can go to start earning money for your writing:
Upwork.com is a leader when it comes to freelance writing. The site includes many other services but writing is a large branch of the website. Creating an account is fairly easy. The site includes education where you can learn about best ways to promote yourself.
You can also join a community of freelancers to get tips from seasoned writers. The top freelancer program allows those great writers to stay on the top of the game. Growing on this site will take fairly little time if you apply yourself.
Freelancer.com is another large freelance company that allows writers to start developing their work and get some income. The Australian-born company actually is the largest freelance company out there. Creating a profile is fairly easy. Once again, it will take time to develop a reputation on the site. If you are a starter, you will probably have to start accepting low-paying jobs.
Essayhelp.online is a growing platform that provides essay writing services. It is a rich service that includes tips for creating great essays. If you would like to apply as a writer, drop an email to team@essayhelp.online.
Writersweekly.com is a website that purchases articles for their website. You just need to click on the contact form and send them your article. Articles must follow certain guidelines specified on the site.
Publish an ebook. If you are feeling like you could write a story or a non-fiction book, publish it online. Amazon Kindle Direct Publishing will help you reach millions of readers and make money from your work.
Monetize your blog. We started this article mentioning about building your style through a blog. It turns out that you can also monetize your blog. It is not that hard and all you have to do is follow some simple steps. Once again, this is a process that will take some time.
Put a sidebar ad or place a donate button.
Pitch a guest blog post. Some blogs might even pay you for writing a good post for their blog.
Include a "Hire me" tab on your blog. In this way, people will know that you are available for hiring.
Don't give up on your dream
The key word here is perseverance. That and hard work. You will probably have to start from the bottom. But it is all uphill from there. Follow your dreams and turn to them if you ever feel like quitting. There is a need for content everywhere, chances are all over the internet just waiting for you to grasp them. Depending on your time availability and how much effort you are able to put into it, it might take you less than a year to start seeing some serious income from writing.
Making money from your writing is now easier than ever. Go on and start chasing your dream and a bright future as a professional writer will be placed ahead of you.
Staff Writer; Christian Carr