NFL Coaching Carousel; Quadruple Standards.
(ThyBlackMan.com) Throughout this communique, I invite all of you to co-explore some of the issues profiled within and come to your own conclusions.  In January, 2016, The Buffalo Bills hired Ed Reed the former Baltimore Ravens safety who during his playing career was an All-Universe, All-Pro, oh, what the heck; just about All-Everything defensive back.  Reed was retained as Bills assistant defensive backs coach for the 2016 season.  As far as his career as a player is concerned, If Ed Reed is not inducted into the Pro Football Hall-of-Fame on the first ballot, I suggest that the process be discontinued, period.
Buffalo Bills Head Coach Rex Ryan had this to say to buffalobills.com shortly after the hire. "Even late in his career, when he wasn't the player he once was – he was coming from the very top of the mountain, but he was still an effective player – but it was the other things that he did in leading players. That's where I was like, the sky's the limit for him. Within five or six years, he may very well be a head coach in this league. I think having the presence of an Ed Reed – he's kind of like the Pied Piper," Ryan said of his former player. "Even when we had him the last year of his playing career with the Jets, all those players followed him, because they all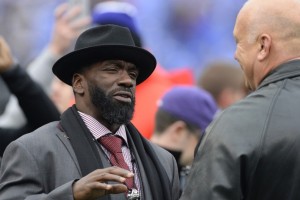 want to get better. What Ed can really bring to this is teaching how to study film, study opponents, different things from a player's perspective that I think will be great."  "Within five or six years, he may very well be a head coach in this league."
Now that my friends is a very interesting quote regarding the cerebral capacity of one Ed Reed, here's why.  Rex Ryan was an assistant coach for 22 years. He wasn't hired for his first head coaching job in the NFL as Head Coach of the New York Jets until 2009.  His twin brother Rob Ryan also has 28 years of coaching experience including 17 at the NFL level.  Rob Ryan was hired by his brother as the "asst. head coach for defense," (espn.com news services) of the Buffalo Bills in January 2016.  This after he was let go as the New Orleans Saints Defensive Coordinator in November of 2015 after the Saints defense performed miserably in 2015.
Rex Ryan also said that; "I'm excited to have Rob join our staff, and I think he will be a great asset for our defense. He has a tremendous working knowledge of our schemes, and I look forward to his input." Well now let's see if the Buffalo Bills football squad and the Bills fan base is as excited about the hire as Rob Ryan's twin brother at the conclusion of the 2016 NFL campaign.   As reported by Lorenzo Reyes of usatoday.com on November 17, 2015 at the time of Rob Ryan's dismissal from the New Orleans Saints. "The Saints defense [ranked] last in the NFL in total yards allowed (424.7 per game) and in points allowed (31.5 per game).
In particular, the last three games [of Ryan's tenure were] especially unproductive for a New Orleans' defense [that surrendered] an average of 43.3 points per game to the New York Giants (5-5), Tennessee Titans (2-7) and Washington Redskins (4-5).    Thanks to his twin brother, Rob Ryan leaped out of the frying pan onto a beachside blanket in the Bahamas.  Rob Ryan might have been on the soup line but not for very long.  He was mot waiting for a bowl of split pea soup.  He more than likely had filet mignon on his mind. Rex Ryan went on to point out of Reeds potential influence on the sidelines as off the field. "I think having the presence of an Ed Reed – he's kind of like the Pied Piper.  If there are all of these positives regarding Ed Reed as a leader, why should he have to wait to become a headmaster in the NFL?  If Reed can be a "Pied Piper" on a subordinate level, why can't those same attributes transcend the asst. coach position to place him at the next level?
As far as hiring minority head coaches in the NFL is concerned, there is an air of nepotism, cronyism and other "ism's and schism's" that may be in play but my opinion is just that, an opinion and as we all know, an opinion is oftentimes meaningless and everyone has one just like everyone has a "pooter scooter;" so keep the "Charmin" handy just in case of an "accident."  Remember how long it took for African American quarterbacks to be validated? Let's hope that the same will not apply for African American head coaches.   (The sources for this article were espn.com, usatoday.com and buffalobills.com)
Written by Aubrey Bruce
This talented brother is the Senior Sports Columnist for the New Pittsburgh Courier. You can reach him at: abruce@newpittsburghcourier.com or 412.583.6741
Follow him: http://www.newpittsburghcourier.com or on Twitter; http://Twitter.com/ultrascribe.