The Learner's Permit Test: Nailing the Exam on Your First Try.
(ThyBlackMan.com) For young people, a driver's license represents freedom and the ability to go wherever they want whenever they want. With so much riding on this seemingly innocent piece of plastic, it is no wonder drivers in training put so much pressure on themselves and work so hard to get their learner's permit.
If you or the teenager in your life is getting ready to take the learner's permit exam, proper preparation is the key. You can pass the driving test on your first try, but only if you know how to study, what to focus on and how to calm your nerves.
Know What to Expect
One of the reasons so many new drivers fail their learner's permit on the first attempt is that they do not know what to expect. They may be surprised at the layout of the exam center or the hectic activity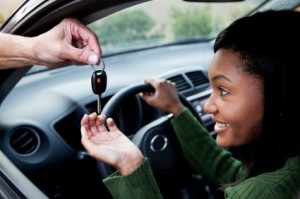 that is going on there. In many states the facility that administers the learner's permit exams also issues registration renewals and license plates and performs other vehicle services. If you are expecting a quiet room for your learner's permit test, you may be disappointed.
Fortunately, preparing for the exam by getting to know the testing center is a simple way to calm your nerves and get ready for the real thing. Check here for additional information on how to prepare for your learner's permit test and get the most out of your preparation.
Cramming vs. Studying
Another common reason young people fail their learner's permit test the first time is a lack of studying. High school students may treat the learner's permit exam is just another test. They set the driver's manual aside or put it in the drawer for months, then pull it out the night before the test. That may work for a math test, but it is much less effective when the goal is proving you are ready to hit the road safely. Cramming for a learner's permit test is ineffective – daily studying is much more likely to get results.
Passive learning can also be less than effective when studying the driver's manual and getting ready for your learner's permit test. Simply reading the pages may not be enough to retain the information and pass the test. Reading the information aloud and asking a friend to come up with sample questions is much more effective, so grab a buddy and get going.
Practice, Practice, Practice 
It is also a good idea to look at a few sample learner's permit tests to get a feel for what you can expect when you get there. The questions you see online will not be the same ones you encounter in the testing center, but they will give you a better understanding of things the test may ask. Simply seeing the structure of the questions and answers can give you extra confidence and help you prepare more effectively.
Last but not least, keep in mind that the goal of the learner's permit test is to make sure you are ready to learn to drive safely. You can expect a lot of questions about the rules of the road and driving safety, so make those areas your focus as you study the driver's manual and get ready for the big day. Armed with this information, you will be ready to ace your learner's permit test on the very first try.
Staff Writer; Joseph Harris