Protecting Our Troops on Social Media.
(ThyBlackMan.com) Recent threats by ISIS and other terrorists groups highlights the inherent dangers of posting content on Social Media platforms that others can track and monitor. Having a digital presence and exposure provides notoriety, but exposes people to unintended dangers.
When accessing the Internet there is a digital bridge that is created. That bridge is a two (2) way bridge of informational sharing. The uniqueness is this bridge has unintentional consequences. Content online is not just local or regional it can be accessed by anyone that has an Internet connection and associated browser (Internet Explorer, Firefox, Chrome, Safari, etc).
Because of the digital age of information now is the time to teach "digital citizenship," how to conduct yourself online, protect your identity and be proactive in security measures. ISIS and other terrorist groups are recruiting teens and young adults to their radical thinking, their strategy is to use digital platforms and tools to threaten service men and women and even their families. Terrorism has grown on our homeland and accessing our digital platforms to frighten, coerce and create an atmosphere of fear. .
Social media is more than just being "social" there is a dynamic interaction of posting the events of our lives and that of family and friends. Humans are social creatures so we have our lives, experiences, emotions and knowledge online. The explosion of Social Media has created a new set of problems and liabilities even seen in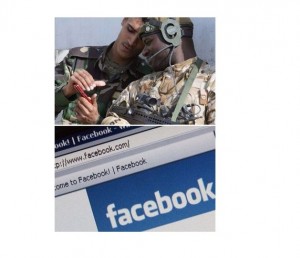 the movies like "Captain America: The Winter Solider" where an algorithm was created to track and predetermine a person's future. This information although from a movie can be a data gathering element with great facts as to a person's potential and future. This information is science fact not science fiction any more.
Social media platforms like Facebook, Instagram, Tumblr, Vine, YouTube and others cannot be totally trusted or confidential because of the potential that personal information may be used to stalk, harm and even kill. As digital citizens we may be our own worst enemy by putting personal information online and allowing GPS tracking to document our location, time and proximity to places and people.
Military personnel must be careful with security settings, GPS stamps, photos, videos that show neighborhoods, schools their children attend or daycares. Caution should be used for checkins, proximity, meetups, Apps to see where family and friends are. Minimizing risks are common sense judgments and making sure when using Social Media platforms and tools monitor privacy , unfriend or hide yourself from people no longer in your network or profession. Do not accept friend requests from overseas or people you don't know. Even if they say they are in the military is this true or is "Catfishing," faking an identity from a false accounts happening?
Do not open every email or download every attachment, emails can contain spyware, malware and viruses that infect your digital device and even spread to others. The uniqueness of military personnel and diverse mission driven assignments makes military personnel targets so their children and family members must also be taught how to conduct themselves online. Military parents must be diligent and aware not just of their physical surroundings, but of their digital surroundings.
Military personnel should Google themselves and family to see what content is connected to them. I often get criticized about this, my thinking is to be proactive about digital content not reactive.
Goggling text, photos, videos, tweets and other dynamic Social Media elements. Protecting our nation is vital, but those in service to protect us should be protected themselves and their families while at home and abroad. There are known terrorist groups in our nation, people traveling overseas to fight in conflicts which draw our country closer to potential conflicts that may threaten non-combatant family members here worrying about their family members fighting on foreign lands.
Social Media education is important to safe guard against potential security and safety issues. Many schools are now teaching Social Media Awareness, this needs to grow and be a mission in and of itself to keep our military families and their children safe. We now digitally have to keep our service men and women safe from digital attacks.
Staff Writer; William D. Jackson
Find out more about this talented writer over at; OCS For Education.