SupportBlackOwned.com, The Black Communities Newest Lifeline For Growth.
(ThyBlackMan.com) The newly launched, Support Black Owned, business directory is offering Black business owners and Black communities an online platform to connect and rebuild neighborhoods. This is offered through the website's free features and increased popularity and growth. Its sole purpose is to create an awareness of Black owned businesses within neighborhoods and encouraging both the owners and consumers the economic rebuilding process begins.
Lee Alliance Inc., the parent company of the Support Black Owned website recently announced the launch of its new interactive website. The website provides a worldwide platform through which African Americans and other Black groups can support, patronize and develop business relationships as entrepreneurs and consumers. The management says, "The site is a Black business directory with features similar to Facebook and YouTube." The website offers a platform for Black business owners to showcase their businesses. In conjunction with its purpose, the website is designed to attract consumers to join the network and encourage visitors to purchase goods and services from listed businesses. The ultimate goal is for everyone to create lifelong connections within Black communities.
Support Black Owned showcases a variety of Black Owned businesses, while owners gain global exposure within the black community. Speaking of the benefits which the network provides to Black owned businesses, spokesperson for Lee Alliance Incorporated stated, "When you sign up for an account and list your business, we will share your listing on social media sites. Thus, giving Black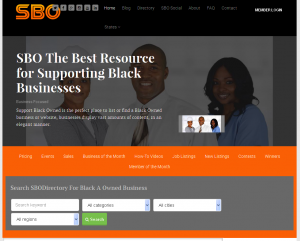 businesses more exposure and free advertising. So from the first day you join we begin to help your business grow," the spokesperson notes.
The members of the Black community will also benefit from using the Support Black Owned network. The platform showcases diversified categories of business listings and allow consumers to locate unlimited products and services. "When you support a black owned business you are helping the whole community. The dollars you spend tend to circulate more throughout the neighborhood in the form of new employment," spokesperson of Support Black Owned explains. "You can also rate and review the companies to let others know the level services were provided," the spokesperson adds.
Support Black Owned offers free promotions for new business listings. All businesses owners have the option of purchasing economical packages for their business listing; which allows them even more exposure. Both businesses and customers can join the networking platform for free and gain access to helpful tips and other useful information.
Black entrepreneurs and customers who desire to benefit from the revolutionary opportunities offered by Support Black Owned, are being encouraged to visit www.supportblackowned.com to become a member or to learn more. To better access your local businesses Lee Alliance Inc. plans to release a new SBOdirectory app in both the Apple and Google Play Store for free in the near future.
Follow Us on the following social media websites:
https://www.facebook.com/SupportBlackOwned
https://twitter.com/SupportBlackOwn
https://plus.google.com/u/0/101370400622324953774/about
https://www.linkedin.com/company/support-black-owned
http://instagram.com/supportblackowned
Contact:   Lee Alliance Inc.
Address:   Miami, Fl. 33133
Telephone: 657-229-5332
Email: Herbertlee@supportblackowned.com