Lalah Hathaway and the Ghost of Luther Vandross.
(ThyBlackMan.com) Forever, for Always, for Love is Luther Vandross's second studio album and was an introduction for many to a man whose music became the anchor of black radio's quiet storm. The title track was written by Mr. Vandross, a brilliant cover artist. The Temptations track "Since I lost My Baby" was remade on that very album. Anyone who dared to remake "Forever, for Always, for Love" had to acknowledge the master while simultaneously making us forget, if just for a moment, our affection for the song in its previous form. The appeal of the cover artist has to tilt towards the higher end of the likability scale to pull this off.
I remember being shocked and then pleasantly surprised when 9th Wonder sampled Forever, for Always for Love in his production of the track "Comfortable" from underrated North Carolina rapper Median's debut LP. I couldn't figure out why this seemed so bold at the time. And why it worked so well for me. Once again, likability played a big part as I came into the track already a fan of both. Median as an MC was able to use the track to tell a love story in much the same way as one might use the Vandross tune to set a romantic mood. But one would not call this a cover. How could that ever be done?
The only performer I'm aware of who has been able to navigate without intimidation a Luther Vandross track, especially a signature tune like "Forever, for Always, for Love" is Lalah Hathaway. She does this as much through image and what she represents to her fans, as through her powerful talent as a vocalist. We connect with her–all of her. I've viewed her performance of this track in various venues.  The best arguably the intimate setting of the Jazz Café in London filmed earlier this year.
[youtube mKqZYr4H-KM]
Lalah and her audience share a bond. They've experienced life and have reached a point in their journey where they've accepted who they are and what they stand for. Ms. Hathaway is comfortable in her own skin. Enough so to have a conversation with the crowd, common during the days of her father Donny, but more recently replaced by spectacle and special effects in the Rihanna/Chris Brown musical moment that we find ourselves at present. This comfort, driven by natural self-confidence, for rappers would be called swagger. For R&B vocalists, it's merely presence. Her gravitas makes us see her as the sole author of the musical message she is delivering. Very few would have the chops or self-assurance to tackle Luther. Lalah is an exception.
Luther Vandross was arguably the last male, mainstream pure vocalist of R&B. He experienced the type of success Ms. Hathaway's father never achieved.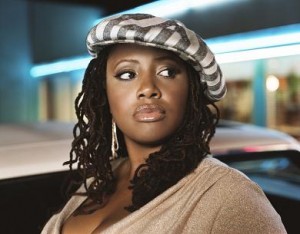 Donny Hathaway was an artist's artist. He never received the attention that his vocal prowess merited and like so many before him was only fully appreciated after his passing. For a time in the 90s, if an African-American singer didn't list Mr. Hathaway as a favorite, their seriousness might be questioned.
Appearance obviously factors in Lalah's appeal. As a man, I might be stepping into a minefield attempting to navigate the "hair politics" of black women. I've been told too many times to stay out of that. On so many levels the attitudes of black men have contributed to an unhealthy and unbalanced self-image in the sisters they claim to love. But before I drift too deeply into Hill Harper-ville, let me speak it plain. Her locs are as much a part of the reason I am attracted to her as is her singing. She is natural on so many levels. I'm not anti-perm or weave, but a sister who could define how she looks on her own terms in a music market obsessed with a certain type of image is on some level as brave as Frank Ocean coming out of the closet. Lalah Hathaway herself talks about her hair and the warnings she was given before going natural in 1997.
Lalah Hathaway is not and has never been a superstar. She has had modest chart success since her music career was launched in 1990. She is a working black female professional in a complicated business.  She is actively engaged in an industry where image is viewed as an equal or greater factor in career success than the ability to perform the job itself. An industry where how black women look is more important than how they navigate their core scope of work. Lalah Hathaway isn't Rihanna or Beyoncé, she is every black woman who has ever been asked inappropriate questions or had stinging statements directed towards her regarding her hair, weight, who she is, and who she thinks herself to be while at work. She represents our wives, mothers, sisters, and nieces. We "like" her and connect with her because she is familiar to us. She is one of us.
Lalah Hathaway has never released covers of any of her father's songs as the sole vocalist. Although best identified as Donny Hathaway's daughter she seems to have no desire to do a Natalie Cole inspired resurrection of the dead. There are many who only know Nat King Cole through his daughter's reimagining of his catalogue. I'm sure Ms. Hathaway would rather her father's own voice be recognized and appreciated without a CGI-driven virtual duet or tribute.
Lalah Hathaway is very much her own woman.  She is a working artist in tune with her craft and connected to who she is. I risk the wrath of purists by saying that I prefer her version of Luther's tune to the original. To this day, I'm not quite sure who Luther Vandross was. He was uninterested or unable to have that Frank Ocean moment that would provide his fan base with deeper understanding. Lalah achieves that almost without effort. She is a natural in every sense of the word.
Staff Writer; Christopher Keith Johnson
This talented brother can be reached on Facebook and Twitter.