OJ Murdock, Another NFL Player Commits Suicide – A Trend?
(ThyBlackMan.com) In what some think might be a disturbing trend, a fifth NFL player has committed suicide in the last two years.  OJ Murdock of the Tennessee Titans becomes the latest athlete to kill himself, setting off alarm bells for those who worry that the mental health of NFL athletes is increasingly deteriorated due to a variety of factors, including head trauma from taking so many hits.
OJ Murdock shot himself while sitting in his car on Monday, parked outside of Middleton High School in Tampa.   He was found in critical condition and taken to the hospital at 8:30 am, suffering from a self-inflicted gunshot wound to the head.
The 25-year old OJ Murdock signed with the Tennessee Titans one year ago, but never played a single game.  Around 3:30 am, Murdock sent a text message to Fort Hays State receivers coach Al McCray.
"It was like, 'Coach, I appreciate everything you've done for me and my family,'" the coach told the Tampa Bay Times.
"At the end of the text he said, 'I apologize.' I figured he's apologizing because he texted me so early."
The coach says that OJ Murdock seemed to be in good spirits just days before the incident took place.   As a receiver at Middleton High School, Murdock was rated the 10th best wide receiver in the nation.  He only played four games for the University of South Carolina, however.  He was arrested for shoplifting in a Florida Department store and suspended from the team.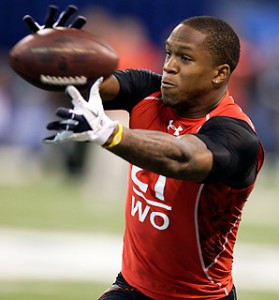 OJ Murdock finished his college career with Pearl River Community College in Mississippi and then Fort Hays State in Kansas. During his senior year, he had 60 catches for 1,290 yards and 12 touchdowns.
He was drafted by the Tennessee Titans, but never suited up for them.   The Titans issued this statement.
"We are shocked and saddened to hear of O.J. Murdock's death this morning.  In his brief time here, a number of our players, coaches and staff had grown close to O.J., and this is a difficult time for them. He spent the last year battling back from an Achilles injury as he prepared for this year's training camp. Our thoughts and prayers are with his family and friends as they try to cope with this tragedy."
OJ Murdock is the fifth NFL athlete to commit suicide in the last two years, and numerous lawsuits are now being filed for head injuries players suffer during their careers.
Junior Seau, Ray Easterling and Dave Duerson all died from self-inflicted gunshot wounds over the last 18 months.  Wade Belak hanged himself in August.  Easterling and Duerson were found to have significant brain damage at the time of their deaths.  Duerson even sent a text message to family right before killing himself, asking that they donate his brain for study when he died.
Ray Easterling had been coping with dementia, a common ailment among former NFL athletes who've suffered brain damage from taking so many hits to the head.
Chronic traumatic encephalopathy, also known as "Punch Drunk Syndrome," affects many former football players and boxers.  It is associated with several symptoms, including memory loss, aggression, confusion and depression.
The African American community is heavily affected by this problem, since so many of our boys are yanked into Pee Wee league football the minute they show any sign of athletic ability. Like soldiers being recruited to die, they are then sent down a path in which stereotypical athletic achievement ends up trumping the desire to fulfill academic potential.  Not every black boy gets caught in this trap, but far too many do.  You probably know these boys in your own communities.
After giving up everything in order to pursue a pipe dream of playing in the NFL, many of these boys end up as lost, marginalized men, unable to adequately provide for a wife and children. The so-called "lucky ones" end up in a league where they get the "pleasure" of banging their heads repeatedly until their brains turn into mashed potatoes.  So, even when you fulfill the dream of playing in the NFL, you often find that's nothing but another negro nightmare.
This is not to be critical of those who love sports, but we must be sure to educate black boys on the fact that the NFL dream is not all that it's cracked up to be.  Even if you are one of the few men who get a chance to play in the league, you may later end up looking back and wishing you never had.  There are easier ways to get rich in America for black men:  We can start by using our brains instead of letting big corporations pay us to destroy them.  Education is the key out of slavery.
Staff Writer; Dr. Boyce Watkins