Drake, In The Spotlight, Make it Last.
(ThyBlackMan.com) "I like a woman with a future and a past," Drake chants on his latest album, Take Care.
Literally taking that phrase, he spits on his second album, reminds me of his first album, Thank Me Later. I was introduced to Drake by a friend in college. We went on a stroll to Starbucks, and he wanted me to hear the new music of the next to blow up in Hip-Hop. I listened to Drake's music and thought it was refreshing to hear a rapper sing and rhyme. But, didn't Nelly already do that?
Hip-Hop began with a chant (listen to Whodini if you need a history lesson). In like manner, the formula that Drake has blended is working for the moment. Perhaps, Audrey Drake Graham had to try to make a crossover album on his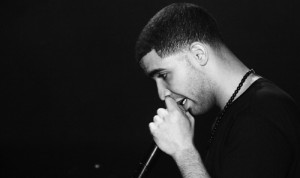 sophomore effort to satisfy his record label, because it is very different from what he put out in the beginning. Let's be real though, now that we have been exposed to Drake, he will never have the emotion in his music or social perspective as a Tupac. Yet, what can be said of this young rapper is that he has discovered his own style. I'm from an era of rappers spitting on the microphone about what they can do to their nemesis. I will never say that Drake is not a serious artist, because artists have many different talents. And, if he believes that it is his right to try and sing, then make it happen.
As I listen to both albums, he seems to always be concerned with people thinking about him changing from who he was before becoming famous. I believe that regardless of your situation or status in life that you will change, I hope that you change.  It is known Drake has a special place in his heart for ladies. On the other hand, his lyrics make you want to get on the dance floor. The artist recites on the track, Over, "I am doing me, I am doing me, I am living life right now man, this is what I'm going to do till it's over, but it's far from over."
I don't consider that verse scholarly, or something that can change my life, but it does make me move a little bit. It does have its place in Hip-Hop. Honestly, the Drake's flow is ill, but substance is lacking within his music. Sometimes, I wonder if it is the crowd that he hangs around that is blocking the genius that he really might possess.  Right now, I will say that Drake is consistent. That is something that is lacking right now in Hip Hop. I appreciate that he knows what he can do with his music. I appreciate the fact that Drake respects women too. There has to be something said of what he is doing, and if I can say nothing else…it would be he is doing things in a positive way.
Associate Editor; kYmberly Keeton
To learn more about this talented writer feel free to visit; Kreative Young Millionaire, Inc….
Need a website or blog? Head over to; Kym K Balance Network.