Black Man: Businessman or Pimp?
(ThyBlackMan.com) There is nothing so beautiful as to see a confident brother, making his move.
And then you see the cheap suit, gold and diamond-OIDS encrusted on everything and then he opens his mouth and there you see that open face. You don't know if this brother owns the local gym that you attend, is a CEO with a Master of Business Administration degree or "runs women."
As a culture, there are just some things that are germane to our style and  expression!  Many groups of people have copied our exciting flair for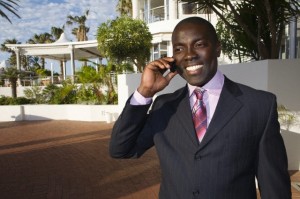 style!…Yet it is when we do not look in the mirror and do that once over that we get caught up.  We should also regard our colleagues and clients as a point of fashion reference.
We may come out of an environment where showcasing all of our assets on our chest is a display of manhood, but it only makes you vulnerable to thieves.  I encourage my clients not to Jewelercize.  The definition of Jewelercizing is to wear jewelry from every possible place, neck, ears, wrist, tongue, fingers and the like.
Have ONE stated piece of jewelry.
Make sure that the piece it is in line with your professional industry and does not over take your look.  Wear a pair of real diamond studs or a nice watch.  Medallions, cups, and gold teeth are big no-no's even in the club.  Any friends, women or clients that are attracted to that false sense of wealth are not going to be worth your conversation.  After all you are a brother on the come up and you should expect and network with the best.
Dress like a pimp and you will have pimp headaches.
Upgrade yourself, your look, your lifestyle and your business!
Staff Writer; Sharelle D. Lowery
Her Team at Classy, BlackGirl takes the Urban Business and Upgrades It!..so that YOU can do business equally in the playing field!  Contact them at 510-414-2369 Direct or online at http://www.ClassyBlackGirl.com