Ron Paul a racist some would say.
(ThyBlackMan.com) As candidate Ron Paul turns up the heat in Iowa, I see, rather predictably, that mainstream writers are turning up the heat on Ron Paul (see here, here, and here). At issue now are the 20 plus year old newsletters, many of which were filled with racist rants, all of which were written under Ron Paul's name. Ron Paul has previously denied both writing the letters and knowing who did, but that doesn't stop elite media types from trotting out that very same skeleton from the closet every few years, all in hopes that getting black folks all riled up will be enough to beat back the momentum of Ron Paul's supporters.
But there are some very important questions we should ask before arming ourselves with pitchforks and tearing off to the nearest Dr. Ron Paul for President campaign headquarters. When discussing Rep. Ron Paul, it's important to consider whether all things are equal. I mean, does Ron Paul's political philosophy still lend itself to the racist rants of twenty plus years ago? Or does his Libertarian philosophy trump a two decade old racist rag?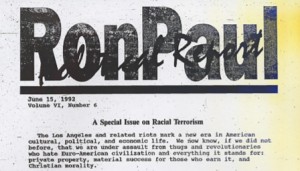 I'm not saying that Ron Paul's association with the newsletter bodes well for his personal ethics, but it does demand that we weigh its proportionality. Historians have sharpened our perception of Lincoln by highlighting that he  was a man of the times and, although he did emancipate the slaves and save  the union, he didn't necessarily believe in race equality.
More recently, the American electorate brushed off charges that candidate Obama was some sort of hate monger simply because his pastor said "God damn America".   In  both cases, what we did was view these men in their specific context; Lincoln in the context of 19th century America, which included the antebellum south,  and Obama in the context of the black nationalist church, born of the black resentment which was the natural outgrowth of white supremacy.
Finish story over at; YourBlackWorld – Ron Paul Racist, etc.