What to Do When You're Not Growing in Your Career.
(ThyBlackMan.com) It's really frustrating when you've been wanting to grow in your career yet the company you're currently working with doesn't give you an opportunity to learn and grow in the industry. When you know that you're capable of doing more, don't let yourself get stuck. Instead, consider taking a new approach and look for ways to advance your career.
Set personal goals.
Maybe because of your routine work, you tend to forget setting some goals. Even if you keep doing the same things over and over again, you can still grow in your career by setting your personal goals. 
Set your personal goals. For example, you're working as a data analyst. You can challenge yourself by setting a goal to finish a task faster than usual. Or if you're a barista, you can set a goal of experimenting on new flavors. Both of these jobs may seem routinary, but you can find ways to improve. Be sure to make your goal specific, measurable, attainable, realistic and time-bounded. A goal without a deadline is just a dream.
Expand your network.
Another way to grow in your career is to build and expand your network. Meet new people that are related to your industry aside from your colleagues and employers. Some people with your common interest could share their best practices and push you to step up. Remember, "As iron sharpens iron, man sharpens man".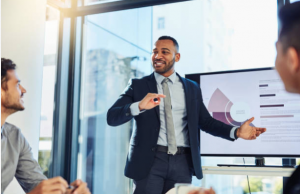 You can also attend seminars and workshops where you can gain opportunities to even meet the most famous people in your industry. 
To maximize events, always prepare a business card. While you may bring an impact to them through your personality, there are instances when you can be easily forgotten by the people you meet, especially when you're attending a big event. Having a business card and presenting it to them may go further beyond first impressions.
You may also create an account on professional social network sites such as Linkedin. Aside from adding your previous colleagues and college friends, you can even build a network with other people from other companies who can help you grow in your career.
Find a mentor. 
When you find your employer too busy to train and mentor you, you can look for other individuals who are able to do it for you. It may be your college professor or someone you already know. If there are none, contact some familiar people in your industry. Some well-known professionals are willing to teach and share their knowledge with those who are eager to learn. You just need to have the courage to reach out to them.
Develop your skills.
Even if your company doesn't give you enough training to help you grow in your profession, there are a lot of other ways outside work that you can do to develop your skills. If you have enough extra time to finish a degree, you can enroll in online schools which give you learning opportunities at your convenience. This can even be an added edge on your credentials which you can present during a promotion opportunity or when you're planning to look for a new job in the future. 
Apart from bolstering your marketable skills, going back to school to develop your skills will make you more competitive – both at your current job and in the job market. What's more, earning your degree will warrant a salary raise. For instance, after completing your RN to MSN psychiatric nurse practitioner degree, you'll earn more each year than RNs with just an associate degree.
Keep up with the industry trends.
What you learned from college may not be applicable to some current situations. This is especially true if you're in the tech industry. There is rapid growth in this type of industry, which is why you need to keep yourself updated with the latest trends in technology. Another trend to take note of is the demand for people trained in marketing and data analytics. A masters programme at Emerson College will equip you with new skills, so you can stand out as a candidate. Searching for a new job can be competitive, so upgrading your skills in line with current demand will give you an edge.
You can utilize your social media to follow people and organizations which provide the latest information in your industry. Some even offer free webinars in which you can learn new strategies and techniques you can use in the workplace. 
Staff Writer; Ellie Carter