Trending Topic: Paying for Mentoring.
(ThyBlackMan.com) Remember the days when a seasoned person in your field of work, took you in and showed you the ropes for FREE?  Andre Harrell and Kevin Lyles took Sean "P. Diddy" Combs under their wings years ago, and showed him the basic knowledge, tools and strategies of the music business, if he wanted to become successful.  Maya Angelou, has shared so many intricate conversations with Oprah that we will never know about, which has helped her establish and maintain her elite empire to this day.
On social media, this trending topic has definitely been up for discussion recently.  Entrepreneur Media shared a post of image with Dr. Patti Fletcher advertising how to book mentoring sessions with her for $650.  According to the post, her expertise is in executive leadership, branding and marketing.  Now I wholeheartedly believe in getting your coins but I disagree with the notion behind this level of mentorship.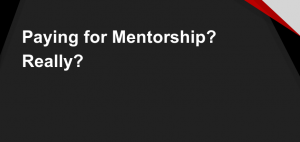 To me, mentorship is someone you go on a journey with for a lifetime, not some transaction between you and another person, then once that transaction is complete, it's like a "get out of my office and go about your life" vibe from the now paid mentor.  A mentor is highly invested in the mentee's progress which is priceless in comparison.  Mentorship is a one on one relationship that builds trust and confidence over a period of time.
Bree Love stated on a Facebook post that, "This is just taking advantage of the word mentor in my opinion.  Wordplay.  This is hiring a coach.  I believe that most people define a mentor as someone who has paid their dues and is giving back through genuine interest in the efforts to help someone move along."
I'm in total agreement with what she said above.  I offer consulting services where I help women gain clarity on their next steps in life in their business or aspiring business, but I would never charge anyone to be their mentor.  I wouldn't give that amount of value to anyone who could pay an invoice and call me their mentor.  To me, if I'm "mentoring" twenty clients, I would NOT be able to fully commit myself to them and their journey through life, genuinely.
It doesn't surprise me that this has become an entrepreneurial trending topic.
In this wave of capitalizing off of our passions aka entrepreneurship, we have "lost our peace on the roads of securing our bags" a good friend of mine pointed out to me recently.  How can you have peace in charging for something that was created to be FREE for starters and out of the kindness of someone's heart.  I get it, "charge to pick your brain" has made the service and our bank accounts blow up with booking sessions or discovery calls as they are called as well.  How can you help sculpt genius or the next expert in a specific field, if you are charging people for sessions with you?  Let me answer that for you, you can't!  Paying for mentorship is unethical to me and I won't ever create a service of such kind.
Staff Writer; Felicia T. Simpson
One may also connect with this sister online over at; FTSimpson.com.