Political Opportunism At Its Best; The President, Scottsboro Boys, And The Central Park Jogger Case.
(ThyBlackMan.com) To explain America's Reconstruction Era to my students, I rely heavily on the psychological fallout that afflicted Americans following the assassination of President Abraham Lincoln on April 14, 1865 by thespian John Wilkes Booth. The most reverberating consequence of the shocking political assassination was the arrival of Andrew Johnson, an avowed bigot, to the U.S. Presidency.
There is no more succinct illustration of the new President's political viewpoint than his public refusal to shake the hand of the venerable Frederick Douglass while hurling the following insult toward the esteemed abolitionist.
Do you think that I would ever stoop so low as to shake the hand of a Nigger?
I use this story for reasons that extend further than teaching my students about American Reconstruction, it is illustrative of how the tone-and-tenor of many Americans can be influenced by the worldview of this nation's commander-in-chief. Put bluntly, there is no more frightening thought for Black America than to have its fortunes tied to figures such as Andrew Johnson, America's first impeached President, or Donald Trump, a figure who appears to be a more than suitable for impeachment.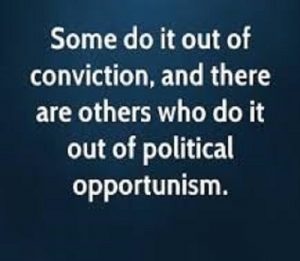 Although a few Blacks such as Candace Owens have come to Trump's defense, there is little room to argue against the reality that Trump serves as one of the few people in this nation who are able to cross the thresholds regarding prejudice, discrimination, bigotry, and a key component in the continuation of institutionalized racism.
As with so many others, the racial bias currently being exhibited by Trump is merely a continuation of prior actions and utterances. One needs to look no further than Ava Duvernay's recent When They See Us for verification of this assertion. Trump's actions in the wake of the Trisha Meili's assault in Central Park left no room for misinterpretation of his position.
Trump articulated his perspective on May 1, 1989 in every major New York City Newspaper via a full-page advertisement that cost the Real Estate developer $85,000. According to Trump, it is past time that America "Bring(s) Back the Death Penalty."
Mayor Koch has stated that hate and rancor should be removed from our hearts. I do not think so. I want to hate these muggers and murderers. They should be forced to suffer … Yes, Mayor Koch, I want to hate these murderers and I always will. … How can our great society tolerate the continued brutalization of its citizens by crazed misfits? Criminals must be told that their CIVIL LIBERTIES END WHEN AN ATTACK ON OUR SAFETY BEGINS!
Sadly, Trump has much company in regards to his bigotry. In fact, it is safe to consider Trump the "bellwether" of racial bigotry.
While many Whites maintain a public silence regarding Race in America, figures like Trump articulate their angst and consternation on a routine basis. The alluded to silence is akin to an incubator for racial animosity within a rapidly diversifying nation. Such realities are further problematized by Trump's volatile statements aimed at young Black males; utterances that arrive via a shotgun blast, not a precision assassin's rifle.
The vitriolic racial bigotry publicly spewed by the commander-in-chief arrives via non-subtle language and imagery; communications that speak directly to rabble rousers incapable of articulating their daunting view of American racial matters and dreams of a foregone nation. The rigidity and oppressiveness of the "good old days" was best expressed during both the 19th and much of the 20th Centuries via the lynching of Black men and the rape of Black women.
Historians of the African-American experience can tell you that the Central Park Jogger case is little more than a replaying of the Scottsboro Boys case. Both cases pivoted around scurrilous accusations of Black men raping White women and the subsequent persecution of innocent Black males by a vengeful, rage filled, unreasonable white mob.
In every way, the politically expedient innuendos expertly aimed at agitated angry White crowds by Donald Trump reminds me of the pledges made by the Prosecutor in The Scottsboro Boys case who vowed to "ride these Black boys asses right into the Governor's mansion."
The politically astute among us realize that Donald Trump's racial bigotry gives voice to a White populace that feels as if their grandest inheritance, a birthright so to speak, has been stolen from them by a multi-racial population who behave as if they have no understanding of "the good old days" when non-whites knew their rightful place of subordination.
One thing is for certain, Donald Trump has already trumped the Scottsboro Boys Prosecutor in using race-baiting and bigotry to get into the Oval Office, not the Governor's mansion. The probability that Trump and his minions will be able to continue their divisive politics and not only remain in the White House but also further anger a white populace who feels as if they are under siege is a frightening proposition for Black America. If successful, one has to wonder when this nation will ever be able to quell the racial firestorms that have dominated America's landscape for far too long.
Staff Writer; Dr. James Thomas Jones III
Official website; http://www.ManhoodRaceCulture.com
One may also connect with this brother via Twitter; DrJamestJones.